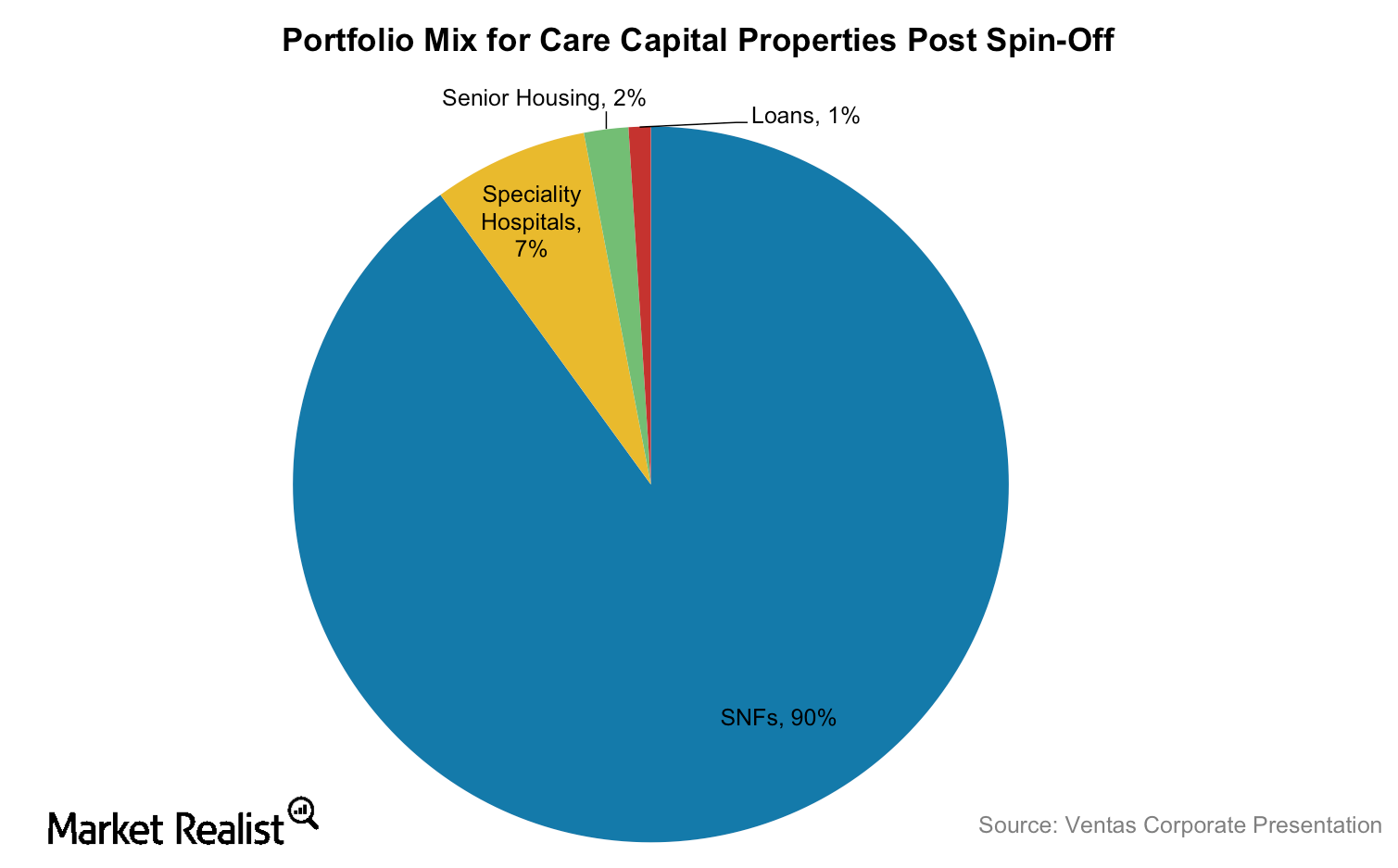 Ventas Completes Spin-Off of Care Capital Properties
Spin-off of the skilled nursing facility portfolio
On August 18, Ventas (VTR) announced completion of the spin-off of its skilled nursing facility (SNF) portfolio into a publicly traded independent REIT called Care Capital Properties (CCP). CCP will issue 84 million shares ($30 to $34 per share) and expects to raise around $2.7 billion.
The company issued 84 million shares in the ratio of 1:4. This means shareholders of Ventas on record as of August 10 would receive one share of common stock of Care Capital Properties for four shares of Ventas common stock held.
Article continues below advertisement
With the spin-off, Care Capital now owns 355 nursing facilities previously held by Ventas in 37 states. The CCP ETF asset mix is 90% skilled nursing, 5% senior housing, 4% specialty hospitals, and 1% loans. Care Capital is one of the two publicly traded skilled nursing facility REITs, the other being Omega Healthcare Investors (OHI), with a portfolio of 560 properties.
Details of the transaction
Ventas expects CCP to generate an estimated net operating income of $315–$320 million and funds from operations of $240–$245 million. The rationale for this spin-off is that Ventas intends to create focused companies with distinct strategies. The company expects same-store operating income to increase following the spin-off, leading to an aggregate dividend yield of at least 10%. On a stand-alone basis, Ventas expects to maintain its dividend payout ratio.
Ventas's shares constitute 0.57% of the Financial Select Sector SPDR ETF (XLF) and have lost ~27% of their value so far in 2015. With the completion of the Spin-Off, Ventas currently has approximately 336.4 million fully diluted shares outstanding. Shares of Care Capital Properties trade on the New York Stock Exchange (SPY) as of August 18 under the ticker symbol "CCP."