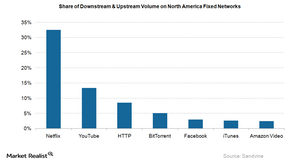 How Does Twitter Plan to Attract More Users?
By Matilda James

Sep. 8 2015, Updated 11:06 a.m. ET
New products
During the 2Q15 earnings conference call, Jack Dorsey, Twitter's (TWTR) interim CEO, highlighted the launch of a new product by the end of this year. The new product is called "Project Lightning."
He mentioned that "You will see us continue to question the reverse chronological timeline. One, called 'Project Lightning,' is set to launch this fall and will involve curated, live streams of updates on breaking news events—a product that 'tells a better story.' The other, called 'While you were away,' was introduced in January and brings popular, recent tweets to the top of a user's timeline."
Article continues below advertisement
Project Lightning is a new feature. It's a button that's available on Twitter's social media mobile app. By pressing the button, users can view pictures and videos of events as they happen. The event could be breaking news or a current sporting or entertainment event. Twitter has realized the potential of live events as a great way to attract users to its platform. It's working to organize its tweets. It plans to post relevant and interesting content by categorizing tweets into popular categories of live events, celebrities, and more.
Intense competition in the video streaming market
The competition is intense and growing in the video streaming market. According to a report from Sandvine and as you can see in the above graph, in March 2015, Netflix (NFLX) accounted for 36.50% of the downstream Internet traffic on computers and networks in North America. Netflix is followed by Google's YouTube. It plans to enhance its live video streaming service to compete with Amazon's (AMZN) Twitch Interactive.
Facebook (FB) is way behind with a 3% share. However, it's coming up with a video streaming tool exclusively for celebrities.
Twitter offered a split in the revenue and non-exclusive rights to stream NFL games. However, Yahoo! won the bid. It offered a large amount of money for the rights. Twitter does have an ongoing content deal with the NFL to post NFL highlights and share ad revenue.
The introduction of Project Lightning makes the NFL season important for Twitter so it can capitalize on streaming pictures and highlights for live events. Although Twitter lost the bid to stream NFL games live, it will still try to win that bid in the future.
To gain diversified exposure to Facebook, you could invest in the Technology Select Sector SPDR ETF (XLK). XLK invests about 4.30% of its holdings in Facebook.