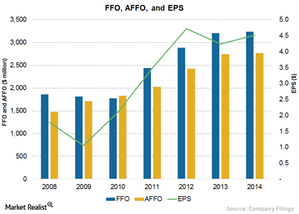 Simon Property Group Recorded Highest Ever Funds from Operations in 2014
By Peter Barnes

Updated
Operating performance measures
A company's FFO (funds from operations, NOI (net operating income), and comparable property NOI (NOI for properties owned and operating in both periods under comparison) are its key metrics for measuring operating performance. These metrics are especially important in evaluating the operating performance of a company's portfolio in that they provide a basis for comparison with other real estate companies.
Article continues below advertisement
Record FFO in 2014
FFO is a measure that REITs use to define the cash generated from their operations. In 2014, Simon Property Group's (SPG) FFO increased to $3.23 billion in 2014, or to $8.90 per diluted share—the highest FFO recorded by the company in its history. Simon Property's FFO has increased consecutively since 2011 after witnessing decreases in 2009 and 2010.
Simon Property achieved an FFO per share of $8.9 in 2014 compared to $8.85 in the previous year. The FFO per share in 2014 was impacted by approximately $1 from the loss of FFO from the Washington Prime Group (WPG) spin-off and its associated transaction expenses, as well as by a one-time loss on the extinguishment of debt incurred in connection with tender offers, and by an early notes redemption during the year.
Despite the loss of earnings from the WPG spin-off and the debt extinguishment charge, the company reported its best FFO in 2014.
Net operating income
Net operating income is computed by deducting the operating expenses from the gross operating income. The operating expenses can be property taxes, maintenance costs, and salary, among others. NOI is used to measure operating performance of the company's properties while FFO is used measure operating performance of a REIT.
Simon Property's (SPG) portfolio NOI grew by 6.7% in 2014 to $5.4 billion, compared to 2013. Comparable property NOI also grew 5.1% to $4.63 billion for US malls, premium outlets, and The Mills outlets. International activities represented approximately 9% of its NOI for 2014.
Investors looking for exposure in commercial real estate can invest in REIT ETFs. Simon Property Group and Public Storage (PSA) make up 8.16% and 4.06% of the Vanguard REIT ETF (VNQ), respectively. Equity Residential (EQR) comprised 6.70% of the iShares Cohen & Steers REIT ETF (ICF).
We'll discuss Simon Property's dividend payout in the next part of this series.