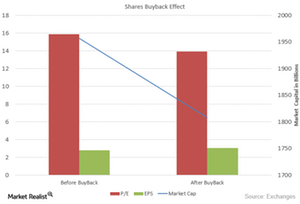 Science Applications Declares a Share Buyback Program
By Parker Thomas

Updated
Buyback analysis
Science Applications International (SAIC) declared a quarterly dividend of $0.31 per share and approved the repurchase of up to 3.5 million shares of the company's common stock out of 5 million authorized shares. It is difficult to predict when the company will buy back the shares, as there are several factors the company needs to consider.
First, if a company does not find a good investment opportunity, it would prefer to pay investors back in the form of share buybacks. Secondly, a large number of shares floating in the market could lead to a decrease in earnings per share (or EPS). In that case, companies adopt policies to increase value for shareholders.
Article continues below advertisement
Thirdly, when a company finds that it is undervalued in the market, it means the market considered the company to be worth more than its actual value. In that case, the company can buy its shares at a higher price, leading to an increase in stock price post buyback. Lastly, the company may adopt such measures to adjust its capital financing. Share buybacks could increase the company's reliance on debt financing.
The above chart represents the company's position before and after the share buyback. After buying back shares, there will be a reduction in shares outstanding, which leads to a decrease in market cap and a reduction in cash and cash equivalents. For this, we have assumed that the stock price will remain at $42.51 on the day of the share buyback. A shares buyback has a direct impact on a company's key ratios. From the chart we can see that the PE (price-to-earnings) ratio has fallen from 15.86 to 13.92 and EPS has increased from $2.82 to $3.05. Accenture (ACN), IBM (IBM), and Cognizant (CTSH) have generated $21.37, $9.89, $25.65, respectively.
The ISE Cyber Security ETF (HACK) consists of 32 stocks. Fortinet (FTNT) and Proofpoint  (PFPT) make up 4.98% and 4.54% of the ETF, respectively.