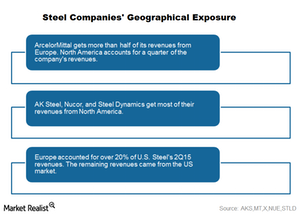 How Geographical Exposure Varies Between Steel Companies
Geographical exposure
Steel companies are exposed to the overall economic activity of the regions in which they operate. In this part of the series, we'll look at the geographical exposure of different steel companies.
Article continues below advertisement
Article continues below advertisement
ArcelorMittal is exposed to Europe
ArcelorMittal (MT) gets more than half of its revenues from Europe. It's among the most geographically diversified company in our coverage universe. North America accounts for almost a quarter of ArcelorMittal's revenues. The company also gets significant revenues from Brazil and ACIS (Africa and Commonwealth of Independent States).
In 2Q15, U.S. Steel Corporation (X) got more than one-fifth of its revenues from Europe, while its remaining revenues came from North America. AK Steel (AKS) gets most of its revenues from the US market. The same holds true for Nucor (NUE) and Steel Dynamics (STLD).
What does this mean?
Geographical diversification makes a company's revenues more diversified. However, there's also a flip side. ArcelorMittal's performance in the past has been negatively impacted by Europe's slowdown.
Now, with Europe returning to some normalcy, the company's operations in the Commonwealth of Independent States have been negatively impacted by the slowdown in Russia and the geopolitical tensions in Ukraine.
Having operations around the globe also exposes a company to currency risk. ArcelorMittal has been negatively impacted by the strength of the US dollar. The company reports its financial results in US dollars (UUP), while it receives a large portion of its revenues in currencies other than the US dollar.
Geographical exposure also impacts shipments and average steel selling prices, as we'll discuss in the coming parts of this series. But before that, we'll look at steel companies' end user exposure.