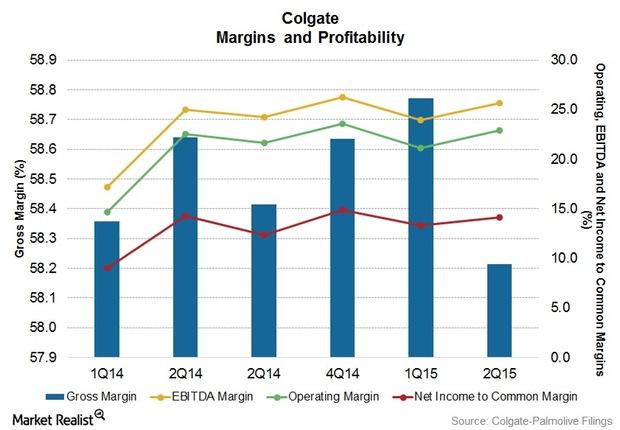 How Colgate is Gaining Share in Key Global Markets
Colgate's regional market share
Colgate-Palmolive's (CL) global market share is ~45%. Colgate is the leading toothpaste compared to Oral-B (PG) and Close-Up (UL), especially in an emerging market like India.
However, the company's toothbrush market share also continued to grow up to 34.4% globally according to comments by the company's CEO, Ian Cook.
Article continues below advertisement
Market share growth
Colgate believes in forceful commercial strategies in order to increase market share against competitors. The following is the market share of Colgate in particular regions:
UK – ~48.3% in 2015 year-to-date, compared to 26.8% in 1993
Mexico-~81% up 70 basis points in 2015 year-to-date, compared to 2014
Brazil – ~72% up 40 basis points in 2015, compared to 2014
Australia – ~63.8% up 170 basis points in 2015 year-to-date, compared to 2014
Russia – ~34.1% up two full points in 2015 year-to-date
China – ~34% in 2015 year-to-date
Mobile site
The company's oral care products have a strong professional endorsement recommended by most of the dentists worldwide. Colgate also has a mobile site for dental professionals that provides clearer information and also helps in dealing with the patient. This site recommends Colgate for specific oral conditions and helps in understanding what could be of interest to professionals.
Article continues below advertisement
Building its own mouthwash brand
The mouthwash segment is the smallest segment in the oral care category. Colgate is keen on building its own mouthwash brand as the company has all the resources and an experienced research and development (or R&D) team. This is one of the reasons the company did not buy Listerine mouthwash while it was being disposed of.
Pricing management
Colgate (CL) faces stiff competition from large international as well as local players worldwide. However, the company aims to have a disciplined approach to pricing management. The company has a process called Colgate Business Planning that helps Colgate to plan its business, including pricing.
The company aims to increase prices, particularly in the emerging market economies to mitigate the pressure of adverse foreign exchange movements on raw material costs.
CL has exposure in the Consumer Staples Select Sector SPDR ETF (XLP) and the iShares Dow Jones US ETF (IYY), with 3.2% and 0.3%, respectively, of the total weight of these portfolios.