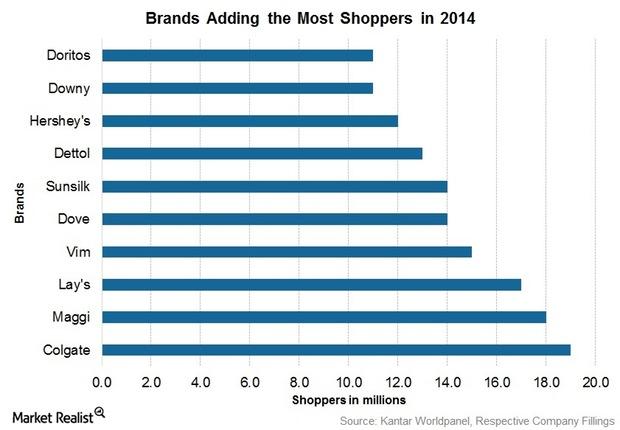 Colgate's Efforts to Engage Consumers to Build Brand Awareness
Commercial investment
Behind Colgate-Palmolive's, or Colgate's (CL), innovation, the company seeks to engage consumers in building awareness of the brand. In order to attract consumers in retail (XRT) stores, Colgate has increased its commercial investment in advertising, promotions, trade spending, and creative brand building. The 2Q15 advertising investment came in at $0.4 billion or 10.1% of net sales.
Article continues below advertisement
In-store advertising
The company increased investment in in-store activities to build brand awareness. For example, in China, Colgate branded the aisle with distinctive displays for a Total Deep Clean variant containing charcoal. In addition, the company offered a coupon and a discount, and it engaged shoppers with an in-store game that provided the visualization of cleaning between the teeth.
According to Kantar's Brand Footprint report, Colgate is adding the greatest number of new shoppers among the fast-moving consumer goods (or FMCG) companies, most of which are in India. Colgate added 19 million new shoppers worldwide in 2014. Downy from Procter & Gamble (PG) and Unilever's (UL) Dove added ~11 million and ~14 million new shoppers, respectively, in 2014.
Digital space
Apart from traditional advertising, Colgate and other companies like Clorox (CLX) and Estée Lauder (EL) spend on digital advertising as well. The recent Science Diet, the Perfect Weight product directly engaged consumers on television. This created pet obesity awareness and provided education across multiple digital media and in-store touch points.
In India, the company uses social media to promote the Bright Smiles, Bright Futures program. In its sixth year, this program provides scholarships to underprivileged children in India. This initiative not only gave away 1,500 scholarships, but it also helped the company from a branding perspective.