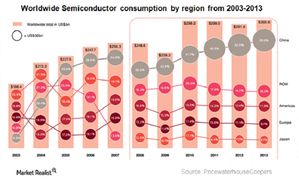 China Emerges as New Competition in Semiconductor Industry
By Puja Tayal

Updated
Competition in semiconductor manufacturing
In the previous part of this series, we saw that South Korea outpaced Japan to become the second largest semiconductor producer in the world. However, South Korea's position is now under threat as China (MCHI) aims to boost its own semiconductor manufacturing industry.
China's move to become self-sufficient in the technology space comes after the US alleged that China stole commercial secrets from its technology firms.
Article continues below advertisement
China is the largest consumer of semiconductors
As shown in the above graph, China is the largest consumer of semiconductors in the world, accounting for 55.6% of global consumption. This is because the country is the largest manufacturer of consumer electronics that use semiconductors.
The country is dependent on imports for over 90% of its semiconductor needs. Seven of the top ten semiconductor companies were key suppliers to China in 2013. Around half of Qualcomm's (QCOM) revenue and around 20% of Intel's (INTC) revenue comes from China.
China's moves to become self-sufficient
China is now looking to reduce its dependence on foreign technology. According to Chinese news sources, the government plans to invest up to $161 billion over the next decade to promote domestic chip manufacturers.
However, China is still dependent on foreign firms for advanced technology, while foreign chipmakers are dependent on China to buy their semiconductors. This interdependence has forced top semiconductor firms to form alliances and joint ventures with Chinese companies.
Qualcomm has announced a China investment fund of $150 million aimed at developing semiconductor and mobile technologies. It has also agreed to outsource some production to China's Semiconductor Manufacturing International.
Intel has set aside $3 billion to upgrade its plants in China and to invest in government-run mobile chip manufacturers.
NXP Semiconductors (NXPI) has formed a joint venture with Datang Telecom Technology to manufacture automotive chips.
South Korean firms Samsung Electronics (SSNLF) and SK Hynix are also expanding production of memory chips in China.
In the final part of this series, we'll examine the challenges and opportunities China faces in the semiconductor space.