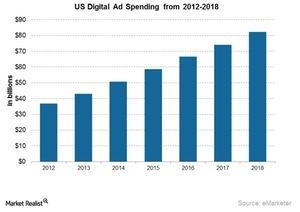 Why Advertising is Moving from TV to Digital
By Shirley Pelts

Updated
Trend of decline in television advertising
On August 20, 2015, the Wall Street Journal reported that Bernstein media analyst Todd Juenger had downgraded its ratings on The Walt Disney Company (DIS) and Time Warner (TWX). Juenger stated in a research note that TV advertising is going through a "prolonged period of structural decline."
Previously in this series, we discussed the fall in advertising revenues in the most recent fiscal quarter results for media companies like Viacom (VIAB) and Discovery Communications (DISCA). In this part of the series, we will look at the reasons for this shift in advertising dollars from TV to digital.
According to a report by eMarketer and as the above chart indicates, total ad spending in the US on the digital format is expected to top ~$82 billion by 2018.
Article continues below advertisement
Reason for this shift
The reasons for this movement of advertising from TV to digital media are varied. Millennial customers, those in the age group of 18–34 years, cut the cord on pay-TV or stopped subscribing to pay-TV altogether. Advertisers are losing out on this young audience in the television format. Millennials are moving to online streaming services like Netflix (NFLX) or other video sharing websites like Google's (GOOG) YouTube or Facebook (FB). While Netflix offers an advertisement-free video subscription, YouTube and Facebook do offer targeted ads in their videos.
Earlier, the technology involved in digital advertising was hindered by slower Internet speeds or lack of development in advertising technology that could cater to a targeted audience in a short span of time. However, faster Internet speeds, along with innovations in Internet-connected TV devices like Google's Chromecast or Apple (AAPL) TV, offer a faster way for advertisers to reach their digital media audiences.
Digital advertising
The evolution of digital advertising display ad technology like programmatic ad buying has further helped matters. Programmatic ad buying is a technological framework for conducting automatic real-time auctions of digital display ads through an ad exchange.
Google's Partner Select is an example of a programmatic premium video marketplace that helps publishers monetize their video content. Other players who are looking to launch ad-supported video services have acquired other top players in this market, like Verizon Communications' (VZ) acquisition of AOL (AOL).
You can get a diversified exposure to Verizon by investing in the iShares S&P 500 Index ETF (IVV), which holds 1.01% of the stock.