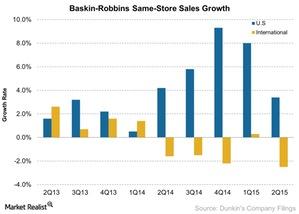 Why a Weak 2Q15 for Baskin-Robbins May Not Be a Negative Signal
2Q15 performance for Baskin-Robbins
Dunkin' Brands' (DNKN) donut business has been doing well, but that's not the case for Baskin-Robbins, the company's ice cream business. Currently, about 24% of Dunkin' Brands' revenue comes from Baskin-Robbins.
Article continues below advertisement
Baskin-Robbins stumbles
Same-store sales growth for the US and international segments of Baskin-Robbins has fallen. Bear in mind that 2014 was an exceptionally good year for Baskin-Robbins, and 2015 is up against a tough comparison.
In 2Q15, Baskin-Robbins's US same-store sales growth rate fell to 3.4% compared to 4.2% a year ago. This was driven by ongoing promotions and discounts as well as a 75% increase in online cake ordering compared to 2Q14.
The international segment's same-store sales growth rate for 2Q15 fell to -2.5% from -1.6% in the corresponding quarter a year ago. Korea, which is the major market for Dunkin' Brands' international same-store sales growth, was impacted by macro factors, according to the company. This may also mean the company isn't a strong player in Korea.
For several restaurant companies, the international markets have become key to their growth. Yum! Brands (YUM) gets the majority of its revenue from China. Starbucks (SBUX) and McDonald's (MCD) have also aggressively pursued international markets. Together, these three companies form 8.5% of the Consumer Discretionary Select Sector SPDR ETF (XLY) portfolio.