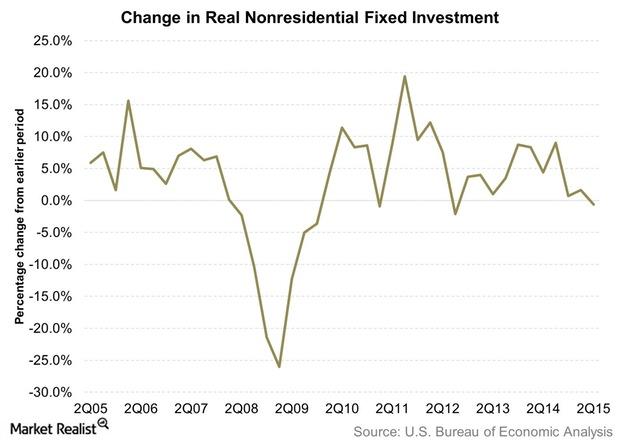 Why Is US Business Fixed Investment Subdued?
What is business fixed investment?
Business fixed investment is more formally referred to as nonresidential fixed investment. It represents business spending on plants, equipment, and machines, and it forms an important component in the calculation of economic output.
It is important not because of its quantum in total output, but because of what it represents. Falling business fixed investment indicates that companies are not investing in plants and machinery, possibly due to concerns about their profitability. This could also indicate that businesses are not very confident about economic growth gaining traction and are refraining from further investments.
Generally, this indicator is much more volatile than the GDP (gross domestic product) growth indicators. Policymakers consider it a healthy sign if business fixed investment outpaces overall economic growth.
Article continues below advertisement
Where does it currently stand?
A look at the graph above will tell you that quarter-over-quarter growth of business fixed investment is not satisfactory. Further, it is far from outpacing overall economic growth. While the US economy grew by 2.3% in 2Q15, business fixed investment contracted by 0.6%.
Drilling and mining company activity is one of the reasons for this contraction. With a fall in crude oil prices (USO) that began in mid-2014, companies belonging to that sector revised their capital spending plans—there was little incentive for them to invest in their businesses given the low level of crude oil prices.
An upturn in prices would have led to drilling companies reviving their spending plans, benefiting stocks like Transocean Ltd. (RIG), Diamond Offshore Drilling (DO), and Rowan Companies (RDC). RIG forms 3.1% of the VanEck Vectors Oil Services ETF (OIH).
What does the Fed have to say?
Policymakers at the Federal Reserve were not happy with this metric, calling it "soft" in the July 2015 policy statement. Although a rate hike is not directly dependent on a pickup in this metric, successive contractions would certainly lead policymakers to rethink the timing of a rate hike.
In the next article, let's examine our third and final component of economic output: net exports.