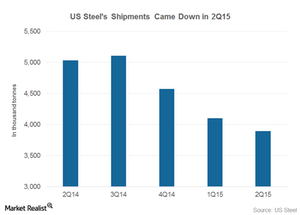 U.S. Steel Sees 2Q15 Steel Shipments, Capacity Use Falter
U.S. Steel Corporation's 2Q15 steel shipments
Steel production in the United States fell ~7.7% year-over-year in the first seven months of 2015. Higher levels of steel imports earlier this year, and a resulting inventory spurt at metal service centers, negatively impacted steel demand.
Article continues below advertisement
U.S. Steel's steel shipments have fallen
U.S. Steel Corporation's (X) steel shipments fell in 2Q15 as compared to 1Q15, as can be seen in the chart above. It's interesting to note that U.S. Steel's peers in the United States (IVV) (VTI), including Steel Dynamics (STLD), Nucor (NUE), and AK Steel (AKS), reported more shipments in 2Q15 than they did in the previous quarter.
Fewer 2Q15 shipments from U.S. Steel are attributable to its high exposure to the energy sector. The company's Tubular segment, which supplies steel products to the energy sector, saw shipments fall steeply in 2Q15. We'll discuss this further in the coming parts of this series.
Capacity use
U.S. Steel's (X) capacity use rate fell to 58% in 2Q15, down from 60% in 1Q15. Lower capacity use rates took a toll on U.S. Steel's 2Q15 profitability. The company's adjusted EBITDA (earnings before, interest, taxes, depreciation, and amortization) fell to $20 million in 2Q15. In 1Q15, it was $110 million.
Lower steel prices also dinted U.S. Steel's 2Q15 earnings. The firm's average selling prices are expected to come down further in the coming quarters, as more customer contracts are renewed. A lot of these contracts are linked to the market prices of steel. Steel prices in the US have corrected sharply in the last few months. This is likely to be reflected in the new customer contracts, which are expected to be renewed at lower prices.
In the next part of our series, we'll look at the 2Q15 performance of U.S. Steel's North American Flat-Rolled operations.