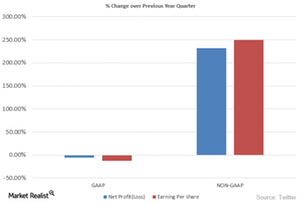 Twitter's Operational Efficiency in 2Q15
By Parker Thomas

Dec. 4 2020, Updated 10:53 a.m. ET
Impact of operating expenses
Twitter (TWTR) is focusing on reinvestment rather than returning revenues to its investors. During 2Q15, the social media company purchased $93 million in property and equipment. Additionally, it purchased equipment through capital leases for $6 million.
Twitter reported interest expenses of $24 million, which has a significant impact on its net income and EPS (earnings per share), as shown on the chart below. Twitter also reported an increase in its sales and marketing expenses by 22% over 1Q15, due to currency exchange fluctuations.
Article continues below advertisement
GAAP versus non-GAAP
Twitter (TWTR) posted a $136 million net loss from GAAP (generally accepted accounting principles) expenses for 2Q15, compared with $144 million in 2Q14. The company posted net profits of $48 million from non-GAAP expenses for 2Q15, compared with $14 million for 2Q14, an overall increase of 232.41%. Earnings per share from GAAP expenses were -$0.21 for 2Q15, compared with -$0.24 for 2Q14. Non-GAAP expenses were $0.07 for 2Q15, compared with $0.02 for 2Q14, an overall increase of 250%.
Facebook (FB) reported zero interest expenses and no long-term liability on its balance sheet. This increased the company's income from operations, which led to a $0.07 increase in EPS quarter-over-quarter.
Facebook and Twitter are components of the Vanguard Information Technology ETF (VGT), constituting 3.99% and 0.31% of the fund, respectively. VGT is one of the most liquid funds in its segment, where Apple (AAPL) has a majority stake, followed by Microsoft (MSFT).