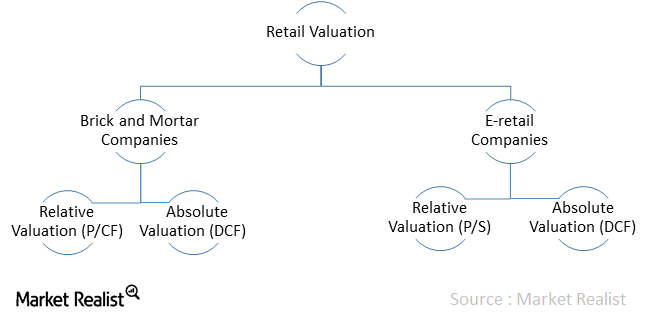 Is Relative Valuation Alone Sufficient to Value Retail Companies?
Relative evaluation in the retail sector
The below chart summarizes how Wall Street values retail stocks on a relative basis, which we've discussed in the prior part of this series. However, the question still remains as to whether the valuation methods are sufficient. Can values of Walmart (WMT), Alibaba (BABA), or eBay (EBAY) from relative valuation be the exact intrinsic value of the company?
Relative evaluation might have been accurate if the markets were strong form efficient, wherein the stock price of a company accounts for all available public and private information. However, the reality is that the market is not strong form efficient. So what if the market is in a bubble where all the peer multiples are inflated and the fundamentals do not justify the price?
Article continues below advertisement
Why the discounted cash flow method is used
In the case of retail companies, it would be really difficult to say whether the stock is expensive or cheap, so most of the analysts would like to verify their valuation using the absolute valuation method, which is based on cash flows, growth potential, and the risk attached to the company. This absolute valuation technique in its most general form is known as the DCF method (discounted cash flow method).
Using the DCF method in retail valuation, we can answer questions like:
What can we conclude about retail companies?
When we talk about retail valuations, it is important not to generalize that all the companies in the SPDR S&P Retail ETF (XRT) can be valued using the PCF (price-to-cash-flow) or the PS (price-to-sales) multiple, as only the analysts can make this decision after studying the business model of the company and the market.