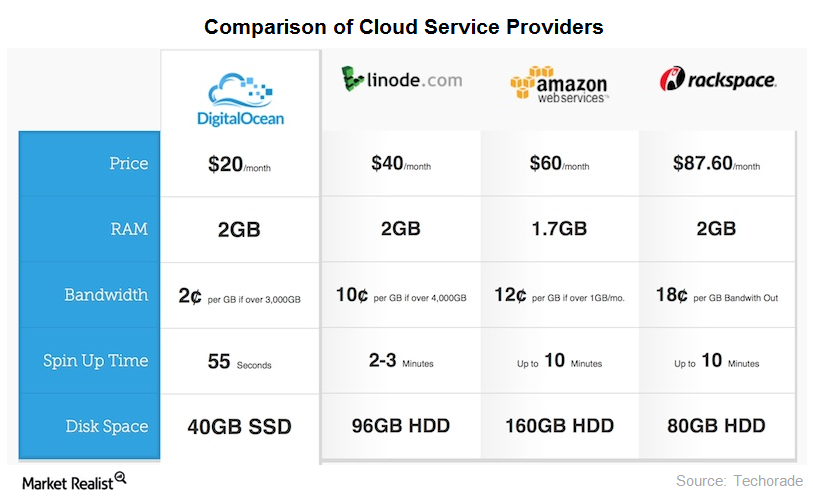 Why Rackspace Revenue Growth Has Slowed Down
Rackspace is yet to benefit from the increased adoption of the cloud
In the prior part of the series, we discussed Rackspace (RAX) revenues and EPS growth in fiscal 2Q15. In spite of the exponential growth the cloud space is experiencing, Rackspace has not been able to rake in this opportunity.
"Cloud computing" refers to the delivery of IT resources like hardware, computer applications, services, or infrastructure, over the Internet. With cloud computing, clients aren't required to own their own infrastructure, or in other words, to build and maintain data centers. Amazon (AMZN) dominates the cloud space with a 30% market share. Microsoft (MSFT) and Google (GOOG) are other leading players in the cloud space. The below chart compares cloud service providers on various parameters, as published on Techorade.
The primary reason for Rackspace's slow growth in spite of increased preference for the cloud is a change in its strategy. A likely reason for its slowed revenue growth could be the higher pricing of Rackspace services in comparison to its peers, as the above presentation shows.
Please read Why cloud computing is changing the IT industry and key players for more information.
Article continues below advertisement
Rackspace considered merger and buyout in 2014, but opted out
In May 2014, Rackspace roped in Wilson Sonsini Goodrich & Rosati and Morgan Stanley to consult and consider its "inbound strategic proposals." Here, strategic proposals refer to buyout and merger offers that Rackspace considered. However, in September 2014, Rackspace announced that it had given up on its earlier plan of either sale or merger with another company. Rackspace stated that though it received interest from "multiple parties" under various terms and conditions, the company felt that none of the offers matched its expectations.
Rackspace instead roped in Taylor Rhodes as its new CEO to lead its future operations. Under Taylor Rhodes, Rackspace developed a strategy to offer bundled computing and support services, instead of just computing power.
You could consider investing in the iShares US Technology ETF (IYW) to gain exposure to Rackspace. IYW invests about 0.11% of its holdings in Rackspace.