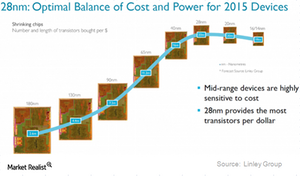 Intel and the History of the Semiconductor Industry
Company history
Intel (INTC), a name we see on almost every laptop and personal computer, manufactures semiconductor chips and microprocessors. The company was founded in 1968 by Gorden Moore and Robert Noyce. "Semiconductor" derives its name from the ability to conduct electricity in higher temperatures and to resist electricity in lower temperature. Semiconductors revolutionized the consumer electronics market and are used in anything that is computerized or that uses radio waves.
Article continues below advertisement
Article continues below advertisement
Intel's journey so far
1970s – Intel's business is dominated by DRAM (dynamic random-access memory) chips.
early 1980s – Intense competition from Japanese (EWJ) manufacturers reduces the company's profitability in DRAM. The company changes its business model to focus on microprocessors.
end of 1980 and entire 1990s – Intel becomes the key hardware supplier to the personal computer industry.
2000s – Intel is hit by a slowdown in demand for high-end microprocessors and competition from Advanced Micro Devices (AMD).
2005 – Intel reorganizes its structure to focus on the core processor and chipset business on platforms.
2014 – A slowdown in PC shipments hits Intel's revenue and the company shifts its focus toward chips for smartphones and tablets.
Moore's Law
In 1975, Gorden Moore observed that the number of transistors on a chip would likely double every two years. This suggested that the size of the transistor would keep shrinking. The observation was dubbed Moore's Law and has guided long-term research planning in the industry ever since.
Lately, technological advancements have started to slow with 22 nm (nanometer) technology. And progress will likely come to an end once the transistor reaches the size of an atom particle. A nanometer—which is equivalent to one billionth of a meter—is a measure used to determine the size of the various elements that constitute a chip.
As seen in the above graph, foundries such as ARM Holdings (ARMH) state that cost-effectiveness starts to diminish beyond 28 nm. The end of Moore's Law may be the start of quantum computing, according to an article published by Science Daily.
Intel makes up 18.93% of the VanEck Vectors Semiconductor ETF (SMH) and 7.74% of the iShares PHLX Semiconductor ETF (SOXX).