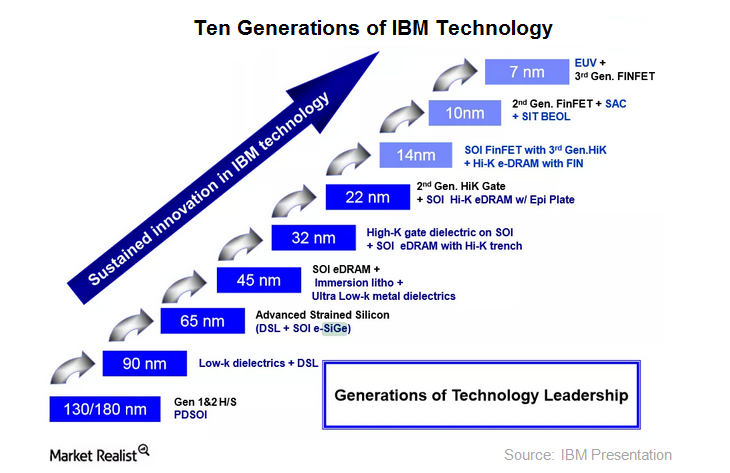 Why Have IBM's 7-nm Chips Created Such Excitement?
IBM's 7-nm chips offer enhanced power at a lower cost
With a 15% market share, Intel (INTC) leads the semiconductor space. Thus, it was a common belief that the company would spearhead nanometer (or nm) technology, especially when the company was co-founded by Gordon Moore. Moore authored Moore's Law, which states that the number of transistors that can be placed on silicon will double every two years. This makes it possible to improve chip performance and add new functionality.
However, it was not Intel, but IBM (IBM), in collaboration with Samsung (SSNLF) and GlobalFoundries, that unveiled the world's smallest computer chip in July 2015. With the development of a 7-nm chip, IBM has surpassed Intel, which is still working on 10-nm chips.
IBM claims that its 7-nm chips have four times more processing power than the available chips in the market, which means that 7-nm chips provide more power at lower cost, as smaller chips use less power to operate. The chart above shows IBM's roadmap for 14 nm, 10 nm, and 7 nm.
Article continues below advertisement
IBM is moving fast in the technology space
IBM's announcement of its 7-nm chips is a turning point in its five-year research program. In July 2014, IBM announced plans to spend $3 billion on a research program focused on cloud, mobile, analytics, and other high growth technologies. The company also shared its plans to focus on fundamental semiconductor research. In its 3Q14 results, in response to its 7-nm chips, IBM said that the company intends to "push the limits of chip technology needed to meet the emerging demands of cloud computing and big data systems."
Before 7 nm, 14 nm, and 22 nm
Currently, the smallest transistors used in chips are 14 nm. Intel launched its first 14-nm chips in 2014. In its fiscal 2Q15 earnings release, Intel divulged its plans about forthcoming nm products. The company plans to launch 10-nm chips by late 2017. After Skylake, Intel's third 14-nm product, Kaby Lake, will hit the market. Kaby Lake is built on the same foundation of Skylake, "with key performance enhancements." Intel's 10-nm model, Cannon Lake, is expected to come during the second half of 2017.
In response to the company's delay in the 10-nm process, Intel said that it hopes to eventually bring the timeframe back to two years as stated by Moore's law.
You can consider investing in the VanEck Vectors Semiconductor ETF (SMH) and the PowerShares QQQ Trust (QQQ) to gain exposure to Intel. Intel makes up about 19% and 3.41% of SMH and QQQ, respectively.