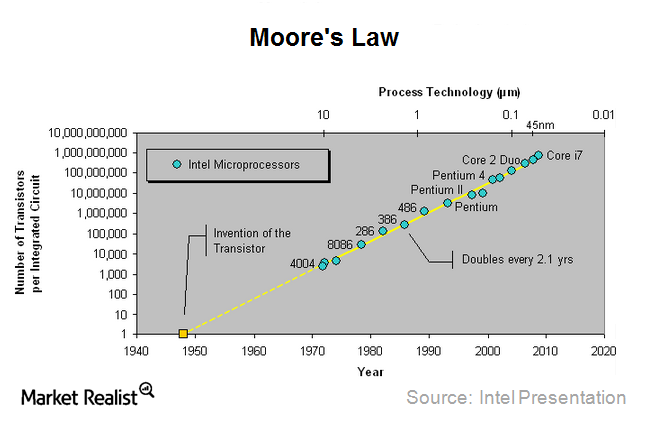 Intel keeps up Moore's Law with 14nm
Moore's Law
Moore's Law holds an important place in the semiconductor space. It's a law that was based on an observation by Gordon Moore. Moore co-founded Intel (INTC) in 1968.
Moore's Law stated that the number of transistors that can be placed on silicon will double every two years. This makes it possible to improve chip performance and add new functionality. Intel used Moore's Law as a foundation to pack more transistors onto chips. Intel used it to reduce their size and cost.
Qualcomm (QCOM) and Samsung (SSNLF) are other leading players in the chip business. They outsourced their operations to TSMC (TSMC).
You can consider investing in the VanEck Vectors Semiconductor ETF (SMH) or the Technology Select Sector SPDR Fund (XLK) to gain exposure to Intel. Intel makes up about 19% and 3.55% of these ETFs, respectively.
Article continues below advertisement
In the past, a rule that was very common in the semiconductor business was to quote prices that were even below cost. This was in accordance with Moore's Law. It implies that there's a steady pace of shrinkage in the size of transistors on chips. The miniaturization won't only make chips faster, but also power efficient. The chips will also have a low manufacturing cost.
Broadwell is the first chip using 14nm technologies
To understand this, we'll look at Intel's latest production process. It can create circuitry measured at 14nm. Intel's Broadwell is the first chip that was created using 14nm technology or billionths of a meter code. Intel claims that Broadwell is 37% smaller than a comparable predecessor. It also has 35% more transistors.
According to Moore's Law, as time passes, the product costs are reduced to such a level that the business would become profitable even before volume shipments were made.
According to William Holt, Intel's executive vice president, the 14nm process hasn't come up to the company's expectations of producing the number of working chips per silicon wafer. This is expected to be rectified in 2015. However, the delay and cost of developing the next nanometer technology is expected to temporarily shrink company's profit margins.