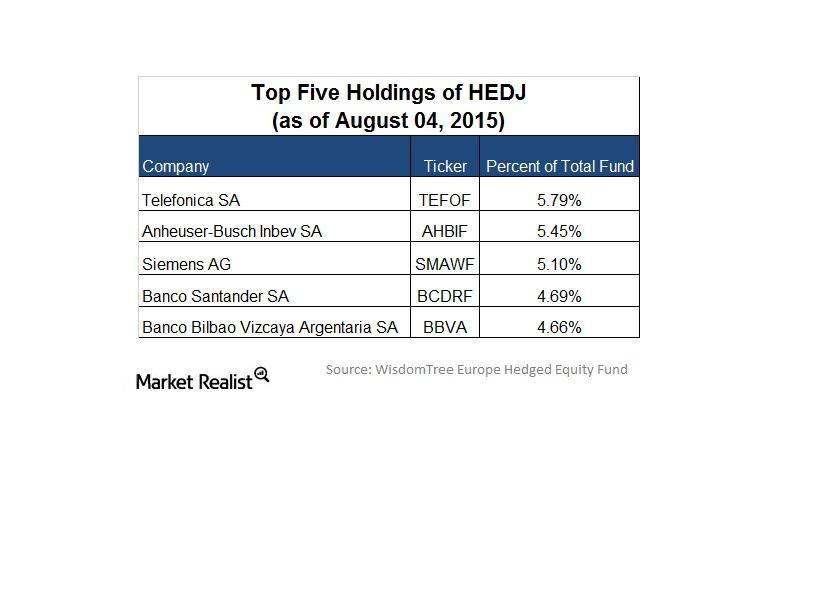 HEDJ and DBEU: A Must-Read Investment Comparison
By Renee Blakely

Aug. 16 2015, Updated 5:06 a.m. ET
HEDJ versus DBEU: How do they compare?
The holdings in the WisdomTree Europe Hedged Equity ETF (HEDJ) total 133, whereas the total is 451 for the Deutsche X-trackers MSCI Europe Hedged Equity ETF (DBEU). The percentages of assets in the top ten holdings for HEDJ and DBEU are 45.13% and 17.9%, respectively. HEDJ invests in companies like Anheuser-Busch Inbev (BUD) while DBEU invests in companies like Novartis AG (NVS) and HSBC Holdings (HSBC).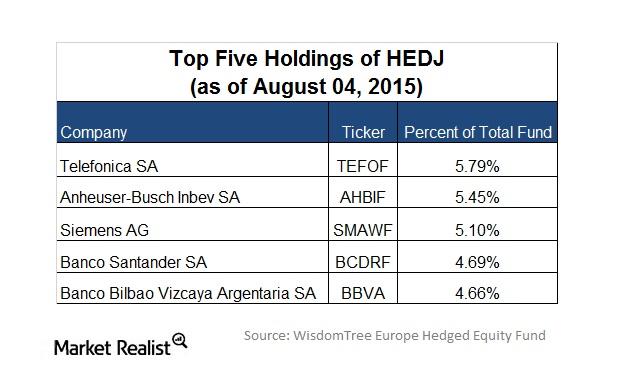 Article continues below advertisement
Rebalancing methodology
HEDJ rebalances annually in June, whereas DBEU rebalances monthly on the last trading day of the month. Rebalancing uses the relationship between a price movement and dividend growth. When stock prices rises move faster than dividend growth, the weight of these stocks falls since these are overvalued stocks and the weight increases for stocks whose price movements lag dividend growth. These stocks are income-generating stocks. Rebalancing also reassesses companies regarding the criteria for potential inclusion in the ETF. It also removes the constituents that no longer meet eligibility criteria.
Hedging style
Investments involve risk and the management of those risks is called "hedging." There are different hedging strategies to manage different kinds of risks. Derivatives are the financial instruments that serve as a hedging tool. Currency risk is managed with the help of currency forwards and futures, which are derivatives.
Now, as the WisdomTree Europe Hedged Equity Fund states in its prospectus, HEDJ employs forward currency contracts and futures contracts to offset its exposure to the euro. This method minimizes currency fluctuation risk but doesn't eliminate the impact of all fluctuations.
Similarly, according to the Deutsche X-trackers MSCI Europe Hedged Equity ETF's prospectus, DBEU also hedges its currency exposure using currency-forward contracts. The fund sells the applicable foreign currency forward for each foreign currency at the one-month-forward rate published by Reuters.
Let's move on to analyze how these funds have performed in the past in the next part of this series.