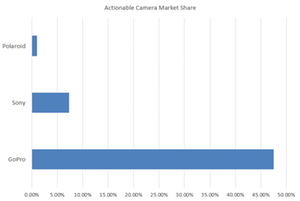 GoPro's Market Shares and Earnings Trend
Market shares
Key factors that drive the action camera are Pinterest, Yahoo's (YHOO) Subsidiary Flickr, and Facebook's (FB) subsidiary Instagram, where people share their captured experience. The demand for camcorders is volatile. It's the most prominent in a particular season that's being driven by a specific occasion—like a sports event. GoPro (GPRO) has the leading market share of 47.50%. It's followed by ION with a 12% share, Sony (SNE) Action Cam with a 6.50%–8% share, and Polaroid has around 1% of the market share.
Over 5.5 million units of action cameras were shipped globally. This gives a market valuation of over $2 billion. If we look at the digital camera, the market already fell to 42 million units in 2014 from 122 million units in 2010. It was impacted by the emerging smartphone.
Article continues below advertisement
Article continues below advertisement
China's GDP (gross domestic product) rose by 7% in 2Q15. It comes under the top ten revenue generating countries for GoPro. The iShares Russell Mid-Cap ETF (IWR) has a 0.07% holding in GoPro. Its newly launched products won't just attract the foreign market. It will also attract the domestic market. There was a rise in the US GPD by 2.30% in 2Q15 along with a fall in the oil price. This will make people spend more of their income on durable products.