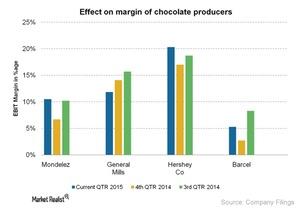 A Global Shortage of Cocoa Beans Forces Prices Higher
Cocoa production is struggling
According to the International Cocoa Organization, which tracks cocoa demand and supply levels on various commodity exchanges, cocoa bean production is being pushed to fulfill the current demand. A major reason for the decline in cocoa supply is the unproductive mature cocoa trees in West Africa. This forced chocolate companies around the world to find alternative ways to have a stable, predictable supply.
The World Cocoa Foundation launched a new campaign to educate West African farmers about innovative fertilizing techniques to enhance cocoa production.
Article continues below advertisement
Product diversification is key for sustainable margins
The above chart shows the effect on the operating margin of chocolate producers like Mondelez and Hershey (HSY), as well as companies with chocolate-based products like General Mills (GIS). The operating margin of Mondelez International (MDLZ), Hershey, and Barcel showed an increase of ~2.6–3.8% since the last quarter of 2014, and the margin for General Mills has declined by 2.23%. Most of these companies showed an increasing trend despite the shortage of cocoa, as chocolate is not their only product.
The cocoa production crisis
A shortage of cocoa beans and stronger demand for chocolates should cause increased prices in the coming months, and supplies are expected to fall by the end of 2015. There is a drastic decline in chocolate production, the main causes being aging trees, diseases, inconsistent rains, and natural disasters.
With 33% of current cocoa supply, the Ivory Coast currently has worn-out soil. Ghana, the second-largest producer, also showed a production decline due to scarce rainfall and the late application of fertilizers.
 Chocolate producers
Major chocolate confectionery players should see a price rise with low supply this year. Through its subsidiaries, Mondelez International (MDLZ) manufactures and markets snack foods, chocolate, and beverage products worldwide. The ETF holding 0.32% of this stock is the SPDR S&P 500 ETF (SPY).
Hershey (HSY) manufactures, imports, markets, distributes, and sells chocolate and sugar confectionery products. The ETF holding 0.95% of this stock is the Consumer Staples Select Sector SPDR ETF (XLP).
General Mills (GIS) manufactures and markets branded food products in the United States and internationally. The ETF holding 1.88% of this stock is the Consumer Staples Select Sector SPDR ETF (XLP).