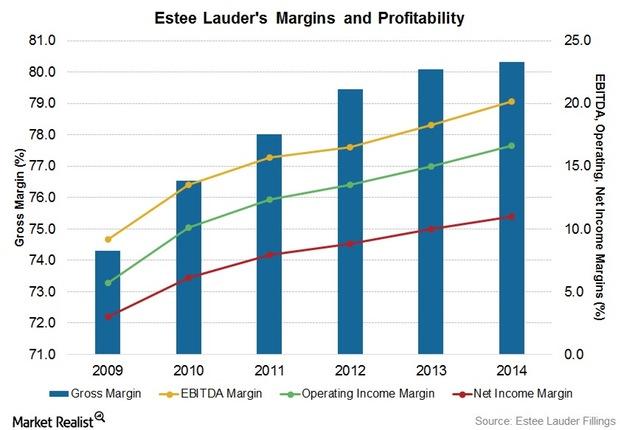 Why Estée Lauder's Margins and Profitability Are Rising
Gross profit margin analysis
Estée Lauder's (EL) worldwide gross profit margin increased to 80.3% in fiscal 2014[1. Year ending June 30, 2014] from 80.1% in fiscal 2013. Despite currency headwinds, the gross margin increased due to a favorable sales mix and price increases for selected products.
Article continues below advertisement
Why margins have increased
Changing consumer behavior and increased demand for beauty and personal care products have led to the increase in EL's top line over the last five years.
Also, implementation of SAP-based Strategic Modernization Initiatives, or SMI, enabled EL to increase product orders and hence consolidated sales through system integration. This also helped in raising the EBITDA (or Earnings Before Interest, Taxes, Depreciation, and Amortization) margin to 20.2% in fiscal 2014, compared to 18.3% in fiscal 2013.
The EBITDA margins rose for peers Beiersdorf (BDRFF) and L'Oréal (LRLCY), as well. BDRFF's EBITDA margin increased to 15.6% in fiscal 2014 compared to 15.3% in 2013, while LRLCY reported an EBITDA margin of 21.1% in fiscal 2014 compared to 19.7% in the previous year.
Estée Lauder achieved a revenue growth rate of 8% in constant-currency terms in fiscal 2014. Procter & Gamble's (PG) and Unilever's (UL) organic growth rate came in at 2% and 3%, respectively, in fiscal 2014 due slower growth in brands.
Estée Lauder's operating margin increased to 16.7% of net sales in fiscal 2014 compared to ~15% in fiscal 2013. The increase was primarily due to lower operating expenses such as spending on advertising, merchandising, and sampling, as well as lower cost of sale.
Strong focus on improving margins for skincare and makeup segments
New product launches from Estée Lauder and Clinique have also led to an increase in sales for skincare and makeup products. The company aims to reallocate its investment spending among brands and media formats that positively impact operating income in the skincare and makeup product categories. This is expected to lead to increased profitability, as these are the most profitable segments for EL.
For example, the recent launch of All About Shadow from Clinique and new Smashbox products added ~$0.3 billion to the net sales from makeup products in fiscal 2014.
EL has exposure in the iShares Core S&P 500 ETF (IVV) with 0.1%[2. Updated August 7, 2015] of the total weight of the portfolio.