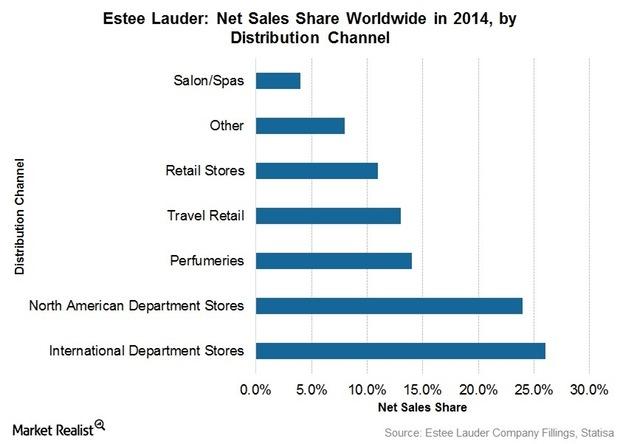 Estée Lauder's Growth Barriers: Weaknesses and Threats
Limited product portfolio and distribution channels
Estée Lauder (EL) manufactures and sells beauty and cosmetic products. Unlike peers Procter & Gamble (PG) and Unilever (UL), Estée Lauder has a more limited brand and product portfolio, which reduces brand diversification.
Estée Lauder's limited distribution strategies also limit its reach to consumers. For example, EL's Bobbi Brown line of cosmetics is sold through limited prestige department stores, freestanding retail stores, and prestige salons and spas. This is a competitive disadvantage for EL.
Article continues below advertisement
Increased dependence on specialty stores
Also, a limited distribution strategy has led to high reliance on specific channels or department stores. For instance, Macy's (M) is EL's largest customer. Macy's sells products primarily within the US and accounted for 10% of Estée Lauder's consolidated net revenue for fiscal 2014[1. Year ending June 30, 2014]. Any adverse change in Macy's customer base could adversely affect EL's sales.
Counterfeit products
With the advent of digital channels, there has been a surge in the sales of counterfeit products. The increase in fake products has been growing in recent years driven by the Internet counterfeit market. The abundance of counterfeit goods and accessories is adversely affecting the sales of EL products. This is a major threat to EL and its peers. It also hurts EL's brand image.
Estée Lauder faces strong competition from established international as well as local players. Competitors such as L'Oréal (LRLCY) and Shiseido (SSDOY) may be better equipped than EL to respond to a quickly changing economic environment. Immediate responsiveness to changing conditions also helps in growing a customer base.
Increasing labor costs and negative currency threats
Apart from competition, labor costs have been rising in the US and Europe. This increase in labor costs in Estée Lauder's key markets could affect its margins. Negative currency movements also have a significant impact on EL's revenue and market share. EL derives 90% of its sales from outside the US.
EL has exposure in the Consumer Staples Select Sector SPDR ETF (XLP) with 1.3%[2. Updated July 24, 2015] of the total portfolio weight.