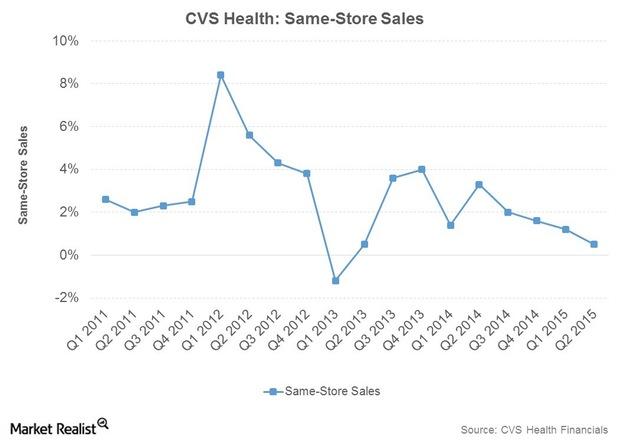 CVS' Retail Pharmacy Market Share Rises in 2Q15 on Scripts Growth
Sales drivers for CVS Health's Retail Pharmacy segment
CVS Health's (CVS) Retail Pharmacy segment reported sales of $17.2 billion in 2Q15, an increase of 2.2% over 2Q14. The revenue increase was primarily due to a larger store footprint and higher pharmacy same-store sales. The company added 20 net new stores in 2Q15, following up on the 28 added in 1Q15. The company plans to add a total of 150 this year, with net square footage increasing by 2%.
Article continues below advertisement
Article continues below advertisement
Market share gains
CVS boosted its share of the retail pharmacy market to 21.6% in 1Q15, from 21% in 2Q14. In contrast, Walgreens Boots Alliance (WBA) had an estimated 19.3% market share of the US retail pharmacy market in 3Q15[1. Quarter ending May 31, 2015, Source: Company filings, IMS Health], up 0.2% over 3Q14.
Same-store sales
Pharmacy same-store sales were up by 4.1%. Same-store sales were boosted by higher same-store prescription volumes (up 4.8%)[2. 30-day equivalent basis]. However, the introduction of new generic drugs had a 3.7% negative impact on comps. Also, the company's Specialty Connect program, which is in the process of transitioning sales to the Pharmacy Services segment, affected comps by 0.8%.
Overall, same-store sales for the Retail Pharmacy segment came in lower at 0.5%. Retail Pharmacy same-store sales also trailed peers WBA and Rite Aid (RAD) which reported sales at 6.3% and 2.9%, respectively, in their most recent quarters.
Generic dispensing rate
The segment's generic dispensing rate, or GDR, came in at 85% in 2Q15, an improvement of 1.5% over the comparable quarter of the previous year. CVS has one of the best GDRs in the industry. A higher GDR has the impact of reducing the top line.
Store comps reduced by 3.7% due to generic introductions. Generic drugs typically cost a lot less, estimated as much as 80%–85% lower than brand name drugs[3. US Food and Drug Administration]. However, the sale of generics is typically more profitable and tends to improve margins. We'll analyze CVS' profitability in more detail in Part 5.
CVS, Walgreens Boots Alliance, and Rite Aid together constitute ~3.3% of the portfolio holdings of the SPDR S&P Retail ETF (XRT) and ~13.1% of the holdings in the First Trust Consumer Staples AlphaDEX ETF (FXG).
You can read about the segment's headwinds in the next article.