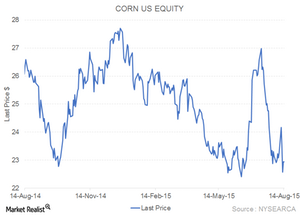 Corn Futures: Trader Expectations Rise
By Sean Brown

Updated
Corn prices set to rise  
Corn futures contracts for December delivery rose on August 14, 2015, by 0.067% and settled at $3.76 per bushel on CBOT (Chicago Board of Trade). The open interest for December corn contracts has increased 1.40%, registering a consecutive increase for the eighth day in a row, as September contracts are converted to December. The Teucrium Corn Fund ETF (CORN) didn't respond to the change and remained flat for the day.
Article continues below advertisement
During the week ending August 14, 2015, corn prices declined due to the negative sentiment of oversupply, specifically from the WASDE (World Agriculture Supply and Demand Estimates) report last Tuesday. Traders remained bullish at the end of the week, and there were rising expectations for price increases in the near future, as traders believe that markets have reached the bottom. The weather has supported farmers, and reports have mostly been positive for the harvest.
Draught-stricken Zimbabwe is facing demand issues after the supply reduced by a shocking 50%. In response to the draught, President Robert Mugabe's government decided to lift the ban on private imports of corn.
According to Fewsnet, an organization that provides warnings about food insecurity, political and economic crisis in Zimbabwe since 2000 reduced the economy by half. It adds that about 15% of the population is facing food shortages in the draught of the decade. John Robertson, an independent economist in Zimbabwe's capital, believes that people are putting off buying other supplies in order to afford corn. The increased supply is one way through which this situation can improve and the US, the highest producer, may have a crucial role to play.