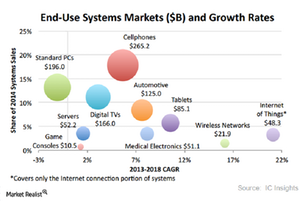 The Future of Intel and the Semiconductor Industry
By Puja Tayal

Updated
The drive to consolidate
In the previous part of this series, we discovered that Intel's (INTC) huge manufacturing capacity gives it an advantage over its competitors. The rising cost of R&D (research and development) and the slowdown in the semiconductor industry is driving big players toward acquisition. Plus, companies must earn a certain minimum level of revenues to be able to run manufacturing sites, which contributes to the drive toward consolidation.
Intel is acquiring companies that can give it an edge in the IoT (Internet of Things) space and in the data center industry, as well as companies that will allow it to make optimum use of its huge manufacturing capacity.
Shutdown of wafer fabs
Article continues below advertisement
The slowdown in revenue growth is forcing companies to shut down their wafer fabrication facilities, or fabs, and outsource manufacturing to third-party foundries such as STMicroelectronics (STM). IC Insights notes that 83 fabs across the world were shut down or repurposed between 2009 and 2014. The Boston Globe reports that Intel is closing its 200 mm fab in Massachusetts because its outdated technology isn't fit to manufacture chips for newer devices.
Intel shifts focus to IoT, server, and mobile markets
Intel is after technologically advanced fabs that are more efficient and cost-effective. The firm's large manufacturing capacity requires that it boost revenues by selling its chips in segments that have a promising future.
As seen in the above graph, IC Insights expects IoT to be the biggest growth driver, growing at a 22.3% CAGR (compound annual growth rate) between 2013 and 2018. Meanwhile, cellphone sales are expected to grow at a 5.6% CAGR.
Intel has resorted to acquiring companies that specialize in the IoT, mobile, and data center spaces:
Altera (ALTR) – a manufacturer of field-programmable gate arrays used in computer networking equipment, phone networks, and automobiles—acquired for ~$16.7 billion
Recon Instruments – a wearable technology maker
Intel is also considered to be one of the best suitors for Qualcomm's (QCOM) chip unit, provided the latter decides to split the chip unit. According to Strategy Analytics, Qualcomm led the worldwide cellular baseband market with a 66% share in 2014.
You can invest in Intel with the First Trust NASDAQ Technology Dividend ETF (TDIV). It has 7.18% of its holdings invested in Intel.