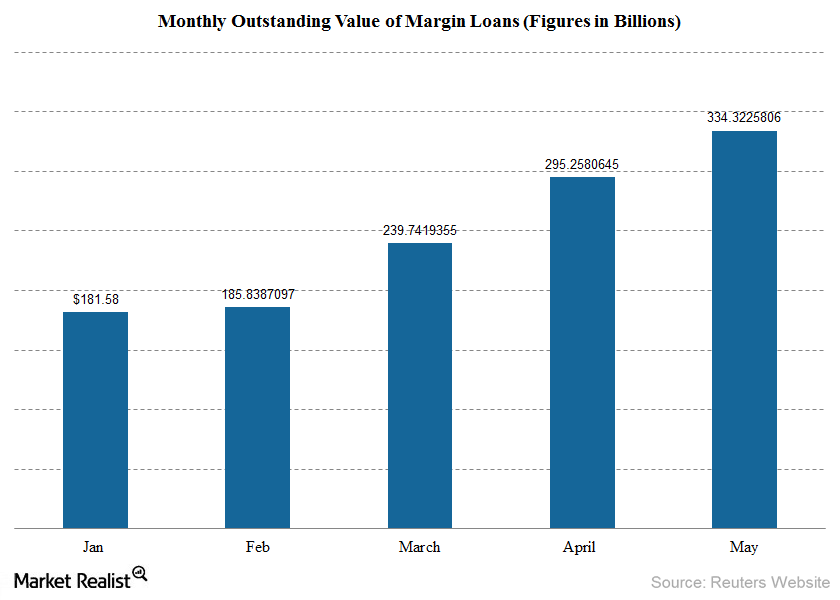 Is the Worst Over in the Chinese Stock Market?
Markets aren't stable in China
The Chinese stock market rose by 150% 15 months before June 2015. It spiraled downwards by 50% in a few weeks. According to Reuters, ~12 million Chinese citizens opened trading accounts in May 2015 alone. Currently, they're incurring heavy losses. As you can see in the following chart, margin trading has been rising consistently in the last five months. It rose fivefold in the 12 months before June 2015.
Article continues below advertisement
Measures taken to control the slump
Government and stock market authorities have taken a number of steps to curb the recent slump in Chinese stock markets. It banned large shareholders from selling shares, cut interest rates for the third time this year, utilized public money to buy equities, and halted trading in more than 40% of the listed companies.
These measures seem to have worked in the short term. On the last two days of trading, share prices rose again. Even though Chinese tech stocks like Baidu (BIDU) and Alibaba Group Holdings (BABA) have risen by over 6.4% and 7.48%, respectively, in the last two trading sessions, it doesn't point to market recovery as a whole. Baidu accounts for 1.13% of the Power Shares ETF (QQQ) and 5.01% of the SPDR S&P China ETF (GXC).
Tech heavyweight Qihoo Technology 360 (QIHU) rose by over 18% during the same period.
Huge amounts of debt 
Regulatory authorities in China have allowed investors to answer margin calls by pledging apartment buildings and real estate that are vastly overvalued, according to analysts' estimates. McKinsey states that out of $28 trillion of China's total debt, ~$2 trillion was created in the last seven years. In that time, China's GDP (gross domestic product) rose by $5 trillion.
To counter the rising debt, China's government encouraged firms to raise equity capital in a vibrant stock market in the middle of an impressive bull run. While there were several IPOs (initial public offerings) and secondary offerings at the time, margin debt swelled by five times in less than 12 months.
To answer margin calls, a rising number of car buyers have canceled their purchases and risked forfeiture of down payments after the stock market crash. It seems that the bull run, created by the Chinese government, has benefited state-owned firms by replacing government debt with equity primarily funded by retail investors. This is in stark contrast to the promises made by State Press—it oversees administration of press and publication in the country—and government officials. They stated that investors' savings would be protected. However, you need to follow the steps taken by the Chinese government over the next few months to have a bigger picture in regard to Chinese markets' long-term performance.