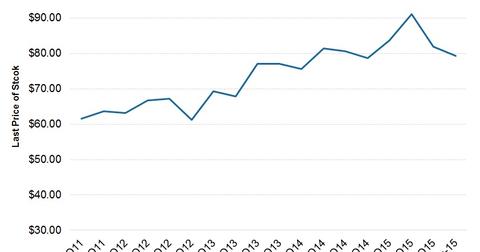 Procter & Gamble: Successes, Weaknesses along the Road to Success
By Penny Morgan

Updated
Strengths
The Procter & Gamble Company, or P&G (PG), is a multibillion dollar consumer staples entity. The company markets over 300 brands in more than 180 countries. These are the company's key strengths:
strong focus on research and development – The company spent $2 billion on research and development in 2014, 2013, and 2012.
leading market position – P&G is a global market leader in some categories, largely on the success of brands such as Olay, Pantene, Head & Shoulders, Pampers, Gillette, and Tide.
diversified and strong brand portfolio – P&G participates in more than 22 global product categories with more than 100 brands. Its strong brand portfolio enables the company to compete effectively.
Article continues below advertisement
Weaknesses
Instances of product recalls such as the Sweep+Vac by Swiffer Vacuum Cleaner, which was recalled in 2005 after complaints of overheating, affect the firm's brand image. This can negatively affect customer loyalty and brand equity.
Also, its dependence on Walmart (WMT), P&G's largest customer, is a weakness. Having said that, when there's higher traffic to Walmart, it can also work as a strength and reflect well on P&G's sales.
According to a Reuters report, Walmart is planning to raise supplier fees. This might impact the profitability of P&G and other suppliers, such as food suppliers. For more on this subject, read Walmart's Impact on Food Price Deflation.
P&G has little control over Walmart's results. Sales to Walmart stores represented approximately 14% of P&G's total revenues in the years 2014, 2013, and 2012.
Walmart, Target, Costco, and other supermarket chains are all important customers for P&G. Their stocking and costing decisions will have a trickle-down effect on PG. No other customer represents more than 10% of P&G's net sales.
Opportunities
P&G aims to harness opportunities in developing countries like China, India, and Russia to enhance its market share as well as stabilize its top-line growth. The company will focus on core segments including the Fabric Care and Home Care segment and the Baby, Feminine and Family Care segment, which are structurally attractive to consumers. These also include some of P&G's strongest brands.
Threats
P&G faces stiff competition in terms of advertising and promotion from Dove (UL), Huggies (KMB), and Colgate-Palmolive (CL). Substitution and duplication of products and brands in the local market present challenges to P&G's top brands. Global economic conditions including commodity price or currency fluctuations and the regulatory environment may also adversely affect the firm's revenue and market share.
P&G figures first among 39 stocks in the Consumer Staples Select Sector SPDR ETF (XLP), with a ~12.3%[2. All ETF portfolio weights are as of June 27, 2015] weight.