Procter & Gamble Leads the Market in Baby, Feminine, Family Care
The company's Baby, Feminine and Family Care segment is the second-largest grossing segment at Procter & Gamble.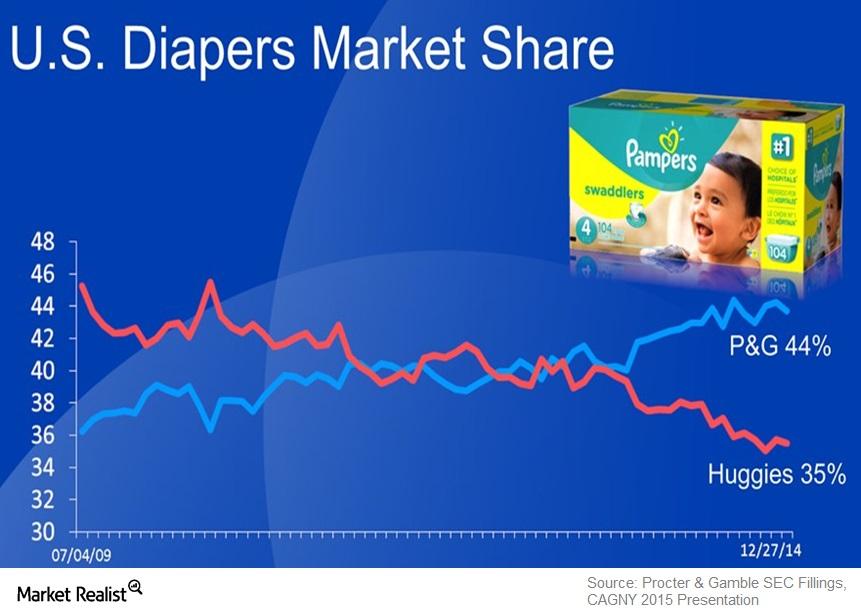 Segment overview
The Procter & Gamble Company, or P&G (PG), manufactures and sells a wide variety of consumer-based packaged products. The company's Baby, Feminine and Family Care segment is its second-largest grossing segment. Segment revenue came in at $21 billion for the year ended June 30, 2014. It contributed 25.4% of P&G's total net revenue. The segment's net income of $2.9 billion contributed 25% of the company's total net income.
This segment's products include baby wipes, diapers and pants, adult incontinence and feminine care, and paper towels, tissues, and toilet paper.
The above graph shows the US diapers market, in which P&G's Pampers has a 44% market share. Meanwhile, competitor Kimberly-Clark's (KMB) Huggies trails with 35% of the market share.
Article continues below advertisement
Article continues below advertisement
Megabrands
P&G has several billion dollar brands, megabrands, in its 180-odd brand portfolio. Pampers is P&G's largest brand, with annual net sales of over $10 billion.
In feminine care, P&G are global leaders, with a global market share of ~30% that's primarily a result of the Always brand. The company has launched new variants of Always. Always Discreet increased the segment's value share to more than 9% in the US, effectively doubling its growth rate. The new product variant also increased value share to more than 7% in the UK, leading to ~50% faster product growth.
P&G's family care business is most saturated in the North American market. Bounty paper towels and Charmin toilet paper have market shares of ~45% and ~25%, respectively, in the US.
Future plans
P&G is concentrating on product innovation to increase demand. But it also plans to increase demand in developing markets by lowering its prices. The company wants to increase revenue with greater segment volumes.
Investing in P&G
You can get exposure to P&G with the iShares S&P 100 ETF (OEF), where the stock accounts for ~1.8% of the portfolio's weight. P&G makes up ~1.2% of holdings in the iShare Core S&P 500 ETF (IVV) and the SPDR S&P 500 ETF (SPY).[1. All ETF portfolio weights are as of June 27, 2015] Also, PG, KMB, and Colgate-Palmolive (CL) together account for 1.6% of the holdings of the iShares Core S&P 500 ETF (IVV).