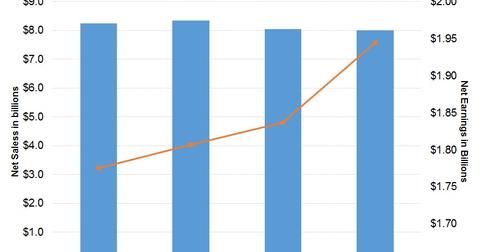 Why Procter & Gamble Dominates in Grooming Products
By Penny Morgan

Updated
Segment overview
The Procter & Gamble Company, or P&G (PG), is a leading consumer staples company that operates through five business segments. The Grooming segment is P&G's fourth-largest segment. It covers shaving products such as electronic hair removal, female and male blades and razors, and pre- and post-shave care products.
The net segment revenue for the fiscal year ended June 2014 was reported to be $8 billion, which accounts for 9.7% of the company's total net sales that fiscal. The segment reported earnings of $1.9 billion, which accounts for 16.6% of P&G's total net earnings for the year.
The above graph shows the Grooming segment's annual revenue and earnings.
Article continues below advertisement
Brands under Grooming
Procter & Gamble's Grooming segment operates billion dollar brands including Gillette, Mach3, Prestobarba, and Fusion. The company has a ~70% market share in blades and razors, making it the global market leader in this space.
P&G's hair removal devices, including electrical razors and epilators, are sold under the Braun brand. The company faces global competition from Unilever's (UL) Brut aftershave gel, as well as local competition. P&G's global market share is estimated to be 20% of male shaving products and 40% of female epilator products.
Future markets
In the six months ending December 31, 2014, P&G's net sales stood at $40.3 billion. Of this, 9.6% came from the Grooming segment. The company intends to focus on its core competencies by innovating with respect to both products and operations. It's also planning to build on the continued positive reputation of its brands. It's banking on effective sales, advertising, and marketing programs to grow both globally and in local mass markets.
P&G ranks first out of the 39 stocks in the Consumer Staples Select SPDR ETF (XLP) weighing ~12.3%. Peers Estee Lauder (EL) and Kimberly Clark (KMB) have significantly lower weights in XLP, at only ~1.3% and ~2.4%,[1. All ETF portfolio weights are as of June 27, 2015] respectively.