Procter & Gamble: A Brand Marketing Pioneer
P&G is one of the world's biggest advertisers. The company has defined many of the marketing strategies used globally.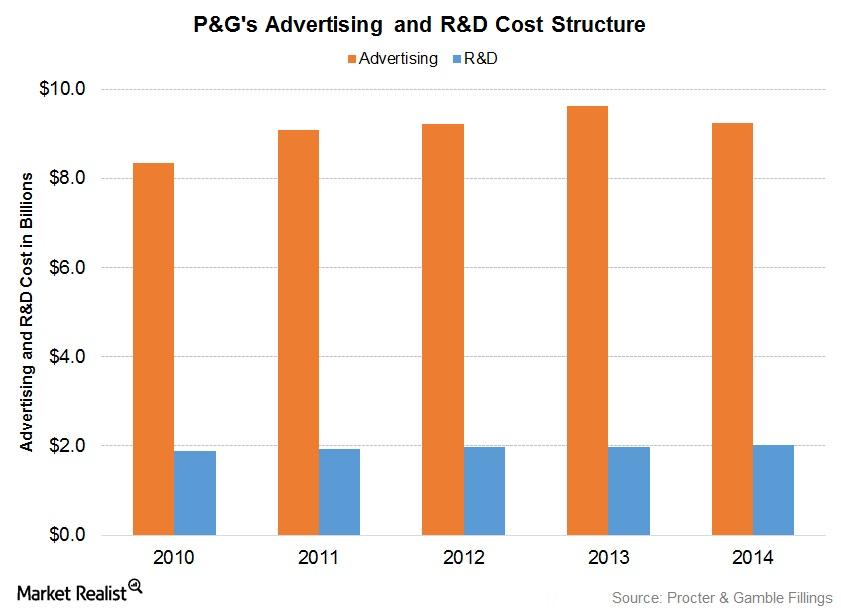 Advertising and research activities
The Procter & Gamble Company, or P&G (PG), is a multinational US-based FMCG (fast-moving consumer goods) company that operates five business segments. Major P&G brands, including Tide, Olay, Pampers, Crest, and Gillette, hold first or second position in most of the markets they compete in.
P&G management believes in effective sales, advertising, and marketing programs to cope with a rapidly changing and competitive environment. In fiscal 2014, P&G spent $2 billion on R&D (research and development) and $9.2 billion on advertising. Advertising spend includes worldwide television, print, radio, Internet, and in-store advertising. The chart below shows P&G's expenditures on R&D and advertising.
Article continues below advertisement
Article continues below advertisement
Biggest advertiser
P&G is one of the world's biggest advertisers. The company has defined many of the marketing strategies used globally. In the 1880s, it was the first company to begin advertising directly to consumers on a nationwide basis. It literally created the concept of the soap opera by sponsoring radio and television dramas targeting women.
P&G's advertisements for Tide—the so-called "washing miracle"— Crest, and Pampers took the US by storm, stealing market share from then dominant Unilever's (UL) ALL, Kimberly-Clark's (KMB) Huggies, and Colgate-Palmolive's (CL) Close-up.
Recent campaigns
The company recently signed celebrity Maritza Rodriguez, for Tide Pods, to demonstrate that washable garments can be fashionable. The company also established a major presence in sports sponsorship by acting as official sponsor of the US national team during the 2010 Winter Olympics.
It continues to promote its brands using various strategies. For example, Gillette, Pantene, and Pampers came together to provide free makeovers, hairstyles, and fresh shaves to top draft prospects and their families during the 2015 National Football League draft.
On May 15, 2015 the company introduced a program called the "Make a Power Move." This program was established to boost the working woman's confidence. Covergirl, Olay, and Pantene teamed up with Levo and style experts to offer beauty and career advice for professionals.
P&G makes up ~1.1% of the SPDR S&P 500 ETF Trust (SPY) and ~12.3%[1. All ETF portfolio weights are as of June 27, 2015] of the Consumer Staples Select Sector SPDR ETF (XLP).