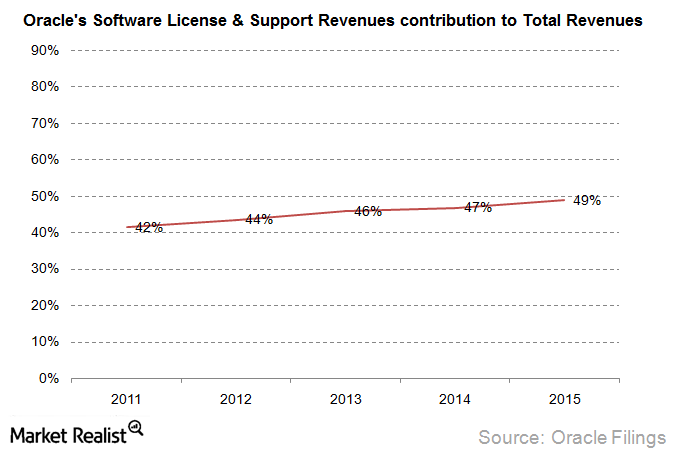 Why Oracle Believes Its Maintenance Revenues Will Grow
Increased preference for hybrid cloud model
As we discussed previously, Oracle's (ORCL) current and future cloud growth comes at the expense of its legacy on-premise software business. In fiscal 4Q15, Oracle's new on-premise software license was the only operating segment that fell by 9% on a year-over-year basis. In constant currency terms, this was a 4% decline.
Most of the Oracle's existing on-premise software licensees purchase additional and incremental cloud capabilities to operate in a hybrid cloud model. The hybrid cloud is preferred by enterprises, as they can install hardware and software in their own data centers. These installations are set up in such a way that they can tap into a remotely hosted Oracle cloud for additional storage and computing requirements.
Article continues below advertisement
Rather than committing to a complete switchover to the cloud, many companies prefer the hybrid cloud. According to a recent Synergy Research report, IBM (IBM) leads the hybrid cloud space, and Amazon (AMZN) continues to be a leader in the cloud space. For additional detail, please read Why hybrid cloud is considered the future of cloud computing.
As we previously discussed in this series, Oracle's sales force is committed to focusing on its cloud offerings over its legacy on-premise software.
Cost-efficient cloud
The adoption of cloud computing has led to increased cost efficiency. The funds that would have gone to servers, license costs, maintenance costs, and backup costs can go to research and development instead. Cloud computing facilitates a number of benefits to enterprises:
improved compatibility between operating systems
flexible support for business strategies
faster response time to difficult conditions
enhanced performance
scalability
increased storage capacity
The above chart shows the contribution of Oracle's support and maintenance revenues toward overall revenues.
Article continues below advertisement
Renewal and attach rates
Oracle's renewal and attach rates are expected to remain high—this is good news, as these rates drive Oracle's support and maintenance revenues. The attach rate refers to a percentage of products sold with the support and maintenance programs.
A company's attach rate is significant. By selling support and maintenance services with a product, the company can increase its revenues depending on the type of support program sold. Also, a product purchase presents an opportunity to sell support and maintenance, which can lead to a long-term service relationship.
Renewal rates refers to the renewal of contracts once the relationship between a company and customer is established. Companies try their best to retain customers to sustain the regular income received from support contract renewals. Customers may not want to renew the contract due for a variety of reasons, such as dissatisfaction with support service, lack of perceived value, or they are no longer using the product.
As the chart above shows, Oracle's support and maintenance revenues now account for nearly half of the company's total revenues. Continued growth of this revenue segment is crucial to Oracle's growth.
Also, over the years, the contribution of this segment toward overall revenues has been on an upward trend. For fiscal 4Q15 and 2015, this segment's revenues stood at $4.7 billion and $18.8 billion, respectively.
If you are bullish about Oracle, you can invest in the PowerShares QQQ Trust ETF (QQQ) and the Technology Select Sector SPDR Fund (XLK). QQQ and XLK invest about 3.08% and 3.41% of their holdings in Oracle, respectively.