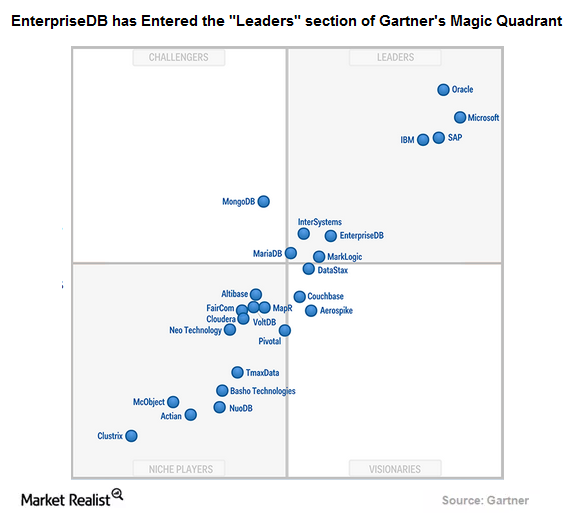 Open-Source Databases Are Set to Overtake Commercial Databases
Developers are opting for open-source databases
As we discussed previously in this series, Oracle is finding it difficult to attract new enterprise customers. Fiscal 4Q15 marked the eighth straight quarter decline of Oracle's (ORCL) new software licenses. The double-digit growth of open-source databases is posing an additional threat to Oracle, which has a revenue share of 48.3% in this space. Oracle claims that it holds a larger revenue share than its four closest competitors combined—IBM (IBM), Microsoft (MSFT), SAP AG (SAP), and Teradata.
At Oracle OpenWorld 2014, the technology giant's executive chairman and chief technology officer Larry Ellison stated, "Database is our largest software business and database will be our largest cloud business."
Article continues below advertisement
Gartner's Magic Quadrant
Gartner analyst Merv Adrian noted that "92.1 percent of DBMS revenue comes from top 5 vendors." Oracle, IBM (IBM), and Microsoft (MSFT) are the leading players in this space, all with proprietary products. Due to the SMAC (social, mobile, analytics and cloud) revolution, rapidly generated data is finding its way toward open-source databases, as developers want to go for convenience. We have already discussed the emergence and increased adoption of open-source databases, which pose a threat to Oracle's declining new software licenses.
The above presentation shows Gartner's Magic Quadrant, which shows that Enterprise DB has entered the "Leaders" section, alongside Oracle, IBM, and Microsoft. The same report stated that open-source databases like EnterpriseDB's Postgres solutions and MariaDB's MySQL RDBMS have registered growth of 46% and 55%, respectively.
Also, EnterpriseDB has database compatibility for Oracle for its Postgres Plus Advanced Server, allowing Oracle workloads to migrate with ease. Approximately half of commercial RDBMS users are expected to migrate to open source by 2018.
Open-source DBMS
Gartner stated that open-source DBMSs have "entered into full market productivity and reached at least 25 percent of the target market." As we have already seen, almost half of DB-Engine's ten most popular databases are open source: MySQL, MongoDB, Postgres, Cassandra, and Redis.
According to a September 2014 TechRepublic article, Peter Goldmacher, Vice President of Aerospike and former Wall Street analyst, "All the legacy guys are going to die… [but Oracle is] going to die last." A likely reason for its delayed death is its leadership in the traditional RDBMS market.
If you are optimistic about Oracle, you can invest in the Technology Select Sector SPDR Fund (XLK). XLK invests about 3.41% of its holdings in Oracle.