Why Nike Is Expanding Its Direct Retail Store Presence
Nike sales growth was fueled by new store openings, higher store comps, and growth in the e-commerce channel.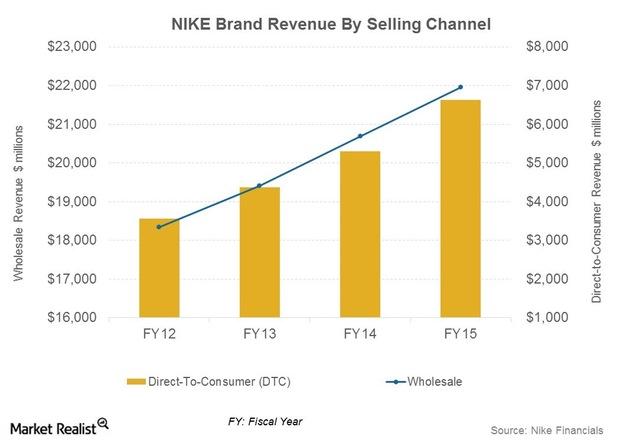 Analyzing the revenue gains from Nike's direct-to-consumer channel
Direct-to-consumer (or DTC) revenue came in at $6.6 billion for Nike (NKE) in fiscal 2015, growing 25.1% year-over-year. This represented 23.1% of the brand's sales, compared to 20.3% last year. DTC revenue includes sales made through Nike's company-owned stores and online.
Article continues below advertisement
Article continues below advertisement
DTC channel drivers
Sales growth was fueled by new store openings, higher store comps, and growth in the e-commerce channel. The company reported the following:
opening 64 new stores during fiscal 2015, taking the total to 832
Strong same-store sales trends, with comps coming in at 16% in constant currency terms in 4Q15
55% growth in online sales, which we'll discuss in more detail in the next article
Geographic performance
DTC performance was the strongest in Nike's three largest markets of North America, Western Europe, and Greater China.
4Q15 DTC sales rose by 13% in North America, according to Trevor Edwards, president of Nike. Online sales were a major contributor, rising 31% year-over-year.
In Western Europe, DTC revenue rose by 30%, again with web sales accounting for much of the increase, rising 39%.
Greater China DTC revenue rose 52% year-over-year. An inventory reset and strong sportswear, running, and basketball performance contributed to the rise in revenue.
Profitability impact
The tilt in the sales mix towards favoring the DTC channel is an important profitability driver for Nike. Sales made via the company's stores (XRT) are typically pricier and tend to benefit margins. Higher traffic at the company's stores and online also gives Nike the opportunity to tell a compelling brand story.
Nike is targeting $8 billion in sales from this channel by fiscal 2017. Currently, Nike derives a greater percentage of its revenue from wholesale channels, compared to peers Under Armour (UA) at 30% in 2014 and VF Corporation (VFC) at ~24% in 1Q15. Lululemon Athletica (LULU) derives almost all its revenue from direct sales to customers.
We'll discuss Nike's profitability drivers in more detail in part seven of this series.