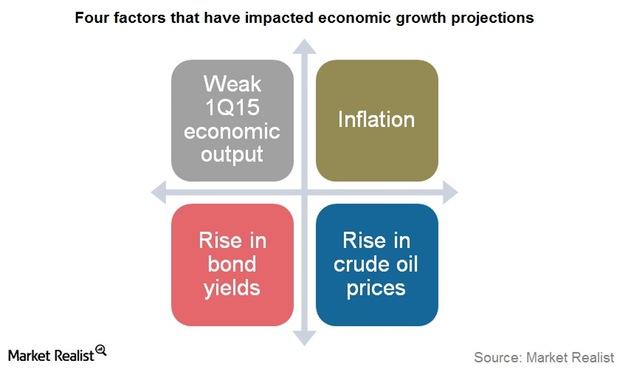 Must-Know Factors Expected to Affect Global Economic Growth
By David Ashworth

Jul. 24 2015, Published 9:27 a.m. ET
IMF forecast
The IMF (International Monetary Fund) updated its April "World Economic Outlook" projections earlier in July. In the update, the IMF highlighted four major factors that have impacted its projections:
weak 1Q15 economic growth
inflation
a rebound in oil prices
a rise in bond yields
Let's take a look at each of these.
Article continues below advertisement
Weak 1Q15 economic growth
In April 2015, the IMF expected the world economy to grow at a ~3% pace in 1Q15. This pace was also reflected in its forecast for the full year. However, an unexpected contraction in US economic growth during this period, as well as its spillover effects in Canada and Mexico, forced the agency to revise its forecast downward.
The US economy was affected by a harsh winter that kept consumers away from department stores including Macy's (M), JCPenney (JCP), and Kohl's (KSS). A labor dispute at the West Coast ports also held back economic output, as exports were stuck at those ports.
Weak economic output worried investors across market caps in ETFs such as the Vanguard Total Stock Market ETF (VTI) and the Schwab US Broad Market ETF (SCHB). However, positive signals from policymakers in the US regarding future economic growth there has calmed investors that were worried about a sustained slowdown.
Inflation
The IMF maintains that headline inflation has begun to bottom out in many advanced nations. This means that a downtrend in inflation is expected to end. However, the agency notes that the effect of deflationary factors was stronger than expected, particularly in the US.
Investors should note that inflation bottoming out is not equivalent to a rise in inflation. It will take time before central banks around the world see inflation rising to levels acceptable to them. Once they do, monetary policies may be adjusted accordingly.
A rebound in crude oil prices has a lot to do with the notion that inflation is bottoming out. Let's look at that, and the fourth factor—rising bond yields—in the next article of our series.