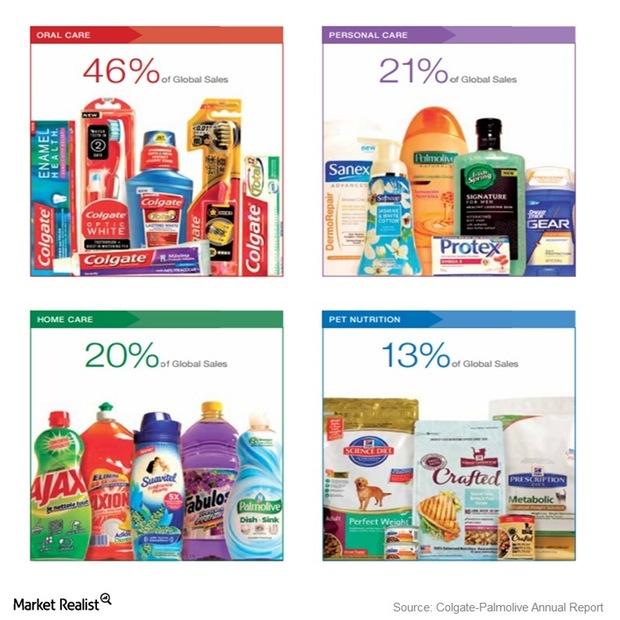 How Much of the Market Share Do Colgate's Leading Brands Have?
Oral care business
Colgate-Palmolive Company, or Colgate (CL), operates in two product segments:
oral, personal, and home care
pet nutrition
According to Kanter Worldpanel, Colgate is adding the greatest number of new shoppers among fast-moving consumer goods (or FMCG) companies. Most of these are in India. Colgate added 19 million new shoppers worldwide in 2014. Downy from Procter & Gamble (PG) and Unilever's (UL) Dove added ~11 million and ~14 million new shoppers, respectively, in 2014.
Article continues below advertisement
Market share is a function of local adaptation
Colgate sells toothpaste around the world according to local flavor preferences, which increases its market share in toothpaste in that region. For example, in India, Colgate launched Colgate Active Salt with Neem and a mouthwash named Colgate Plax Bamboo Charcoal. Neem and Charcoal are known for their antibacterial properties. Colgate's toothpaste and toothbrushes in rural India reached record market shares of 57.4% and 42.0%, respectively, in 2014.
In North America, innovations in the Colgate Optic White Franchise increased market share of toothpaste from 5.3% to 5.6% in 2014.
After the launch of Colgate Maximum Cavity Protection plus Neutrazucar, Colgate's toothpaste market share for Brazil reached 72.1% in December 2014. This was the highest in the past 18 years.
Leading brands in personal and home care
Suavitel is one of the leading fabric softeners in the Latin American region. The market share for fabric conditioners was up 50 basis points to 51.6% in this region.
In mature markets like the US and Europe, Hill's Science Diet pet nutrition portfolio has gained popularity. For example in Europe, Hill's Science Plan Perfect Weight has been supported with secondary displays in store, an in-store weighing area, and on-shelf dynamic screens to explain product benefits.
CL and Clorox (CLX) both have exposure in the SPDR S&P 500 ETF (SPY) with a total weight of 0.4%[1. Updated as on July 14, 2015].