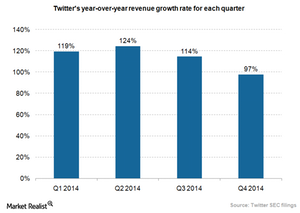 Emerging Markets: Twitter's Next Focus
By Matilda James

Dec. 4 2020, Updated 10:53 a.m. ET
Twitter's Singapore office is now its Asia Pacific headquarters
Twitter (TWTR) is expanding its Singapore office to accommodate data analytics experts and product specialists. According to the Wall Street Journal, Twitter's strategy is to explore emerging markets and boost its slow revenue growth.
The expansion of the Singapore office is one of the initiatives to overcome the company's poor 1Q15 performance. Twitter was unable to meet its own revenue growth estimate that quarter. Although the company's revenue of $436 million this quarter grew at a year-over-year rate of 74%, it's well below the year-over-year revenue growth Twitter has achieved in the past few quarters.
Article continues below advertisement
Emerging markets – potential for new users and advertising revenue
Twitter's user growth has reached its saturation in developed markets. So now the company is focusing on the emerging markets of Singapore, India, and Indonesia. The Singapore office, which is now Twitter's APAC (Asia-Pacific) headquarters, will be the new innovation hub. The office plans to double the staff and hire technology experts to carry out data analytics initiatives and live Twitter campaigns.
Exploring markets beyond China
Twitter opened an office in Hong Kong this year to provide access to its users in Greater China, since the service has been banned in China (FXI). Twitter's intent is to generate revenue from advertising contracts with leading Chinese companies like Huawei Technologies and Xiaomi. The company's expanding presence in Asia could help Twitter organize a mass protest and open doors in China.
Facebook (FB) and Google's (GOOG) YouTube are also banned in China, forcing advertisers to turn to Alibaba (BABA) and Baidu. Google and Facebook rule the global digital advertising market. But they're facing intense competition from Chinese players Alibaba and Baidu, who are capitalizing on the potential of digital ads in the emerging market of China.