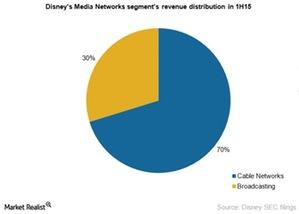 Disney's Media Networks: The Largest Segment for Revenue
Disney's largest segment in terms of revenue
The Walt Disney Company's (DIS) Media Networks segment is the company's largest segment in terms of revenue. It had 45% revenue share in 1H15. Media Networks includes broadcast and cable television networks, television distribution and production, domestic television stations, and radio networks and stations.
Media Networks had total revenues of ~$12 billion in 1H15. As you can see in the above graph, Cable Networks accounted for 70% of the segment's total revenues, or $8.2 billion. The remaining 30% revenue share belonged to the segment's Broadcasting business.
Article continues below advertisement
Article continues below advertisement
Cable Networks and Broadcasting
Cable Networks includes ESPN, the Disney Channel, and ABC Family. It also operates the UTV Bindaas channel in India (EPI).
Cable Networks derives a majority of its revenues from fees under multi-year agreements with MVPDs (multichannel video programming distributors) such as Dish Network (DISH) and Comcast (CMCSA). These agreements give MVPDs the right to distribute Disney programming to MVPD subscribers.
Disney's broadcasting business includes domestic broadcast network ABC, television production and distribution operations, and eight domestic television stations.
The company also owns a 33% stake in Hulu, which is jointly owned by Fox Entertainment Group, Disney, and NBCUniversal. Hulu is an over-the-top (or OTT), ad-supported streaming service that offers TV shows, clips, and movies on its free and subscription-based service, Hulu Plus. Hulu is similar to Netflix (NFLX), which is also an OTT streaming service.
Disney has a 50% effective interest in Fusion, a lifestyle television and digital network dedicated to news and pop culture.
You can get a diversified exposure to Disney by investing in the SPDR Dow Jones Industrial Average ETF (DIA) which holds 4.45% of the stock.