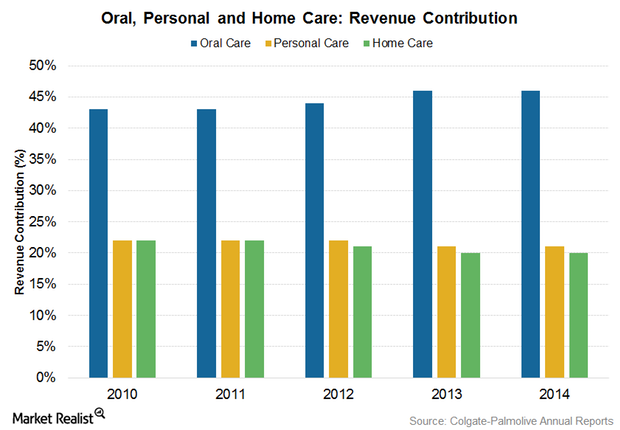 Colgate's Oral Care Business Is the Jewel in Its Crown
Segment overview
Colgate (CL) is one of the leading fast-moving consumer goods (or FMCG) companies operating worldwide. The company operates under two product segments. The oral, personal, and home care segment is Colgate's highest grossing segment.
The net revenue for this segment came in at $15 billion in fiscal 2014,[1. Year ending December 31, 2014] which was 87% of the company's total worldwide sales. Each of the divisions contributed the following to the company's total sales:
oral care contributed 46%
personal care contributed 21%
home care contributed 20%
The sales were down 1% from 2013, however, as the higher US dollar affected international revenue. Colgate derives more than 80% of its revenue from outside the US.
Article continues below advertisement
Top market share in oral care
Colgate estimated its share of the global toothpaste market and the global manual toothbrush market at 44.4% and 33.4%, respectively, in 2014. Number two in oral care, P&G's global market share is estimated at ~20%. Some of Colgate's leading brands include:
toothpaste: Colgate Total, Colgate Max Fresh, and Colgate Optic White
toothbrushes: Colgate 360° and Colgate Slim Soft manual toothbrush
mouthwash: Colgate Optic White, Colgate Total, and Colgate Plax mouthwash
Colgate's oral care business also includes pharmaceutical products for dentists and other oral health professionals.
Asian leader
Procter and Gamble's (PG) Oral-B and Crest, and Unilever's (UL) Pepsodent and Close-up face stiff competition from Colgate's oral care brands, especially in the Asian market. Colgate's oral care business is a significant part of its business in Asia, making up ~86% of the total sales in that region in 2014.
Article continues below advertisement
Personal care leadership
Colgate also has the top market share in liquid hand soaps worldwide. Colgate's personal care products include liquid hand soaps, shower gels, bar soaps, and deodorants. Palmolive, Protex, Softsoap, and Sanex are some of its famous brands. Softsoap is the market-leading liquid hand soap brand in the US.
Home care business
Colgate's Suavitel fabric softener is a market leader in Latin America. Colgate's other home care products like Ajax dishwashing liquid and Fabuloso home cleaner face competition from Clorox's (CLX) disinfectants and home cleaners.
CL together with peers Kimberly-Clark (KMB), PG, and CLX make up ~1.7%[2. Updated as on July 7, 2015] of the SPDR S&P 500 ETF (SPY).