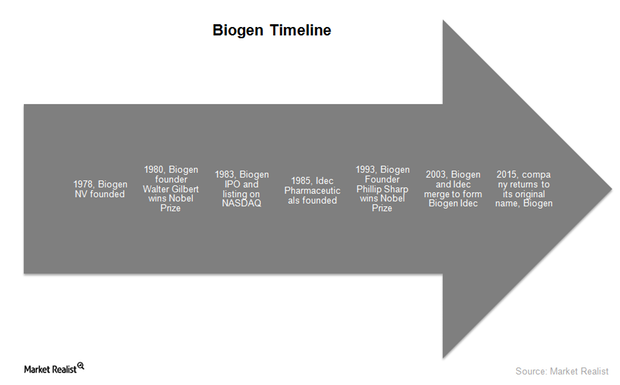 Biogen: An Investor's Overview to a Leading Biotech Company
By Margaret Patrick

Jul. 23 2015, Updated 12:54 p.m. ET
Overview
Based in Cambridge, Massachusetts, Biogen (BIIB) is one of the world's leading biotechnology companies. Biogen specializes in manufacturing and marketing therapies for people who have serious ailments related to the nervous system, immune system, and blood.
Article continues below advertisement
History
Biogen NV was founded in 1978 by a group of prominent scientists and three venture capitalists. With a strong workforce of talented scientists, the company has consistently delivered breakthrough innovations in biotechnology. Walter Gilbert and Phillip Sharp, two of the company's founding members, have won Nobel Prizes for their work in the field of biotechnology.
Biogen listed its stock on the NASDAQ stock exchange in 1983. In 2003, the company merged with Idec Pharmaceuticals to form Biogen Idec. After the merger, the company developed several blockbuster drugs such as Tecfidera, Tysabri, and Rituxan, targeted toward multiple sclerosis and cancer. These drugs, coupled with Biogen's strong research pipeline, led to investor interest in the company. In 2015, the company returned to its original name, Biogen.
Inorganic growth
Biogen has actively acquired smaller biotechnology companies with promising inventions. The company has entered into licensing deals with Acorda Therapeutics and Knopp Neurosciences to expand its product portfolio and geographic reach.
The biotechnology industry is currently witnessing an increasing number of collaboration deals. Collaboration deals involve greater risk–reward sharing, compared with licensing deals. Biogen has entered into a collaboration deal with companies such as Portola Pharmaceuticals (PTLA), Isis Pharmaceuticals (ISIS), and Genentech, a wholly owned subsidiary of Roche Pharmaceuticals, to develop therapies for multiple sclerosis and cancer.
Expanding product portfolio
As the competition in the biotechnology sector becomes more intense, companies such Biogen and Amgen (AMGN) have been expanding in the upcoming biosimilar or generic biotechnology drug market. Biogen formed a joint venture with Samsung Biologics, called Samsung Bioepis, to develop biosimilars.
Investors can get a diversified exposure to Biogen stock by investing in the iShares NASDAQ Biotechnology ETF (IBB). IBB holds 7.48% of its total holdings in Biogen stock.