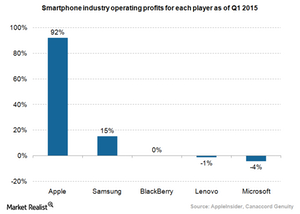 Apple Has the Biggest Slice of Smartphone Industry Profit
Apple accounts for 92% of smartphone industry operating profits
Apple (AAPL) is a premium smartphone player. As a result, it simply dominates the smartphone industry's operating profits. According to a report from the Wall Street Journal, citing Canaccord Genuity managing director T. Michael Walkley, Apple accounted for 92% of the industry's operating profits in the first quarter of 2015.
As the chart below shows, Samsung (SSNLF) accounted for 15% of the profits, which means other players experienced operating losses. This is indeed the case. BlackBerry (BBRY) just about broke even while Lenovo and Microsoft (MSFT) each suffered operating losses.
Article continues below advertisement
Article continues below advertisement
Apple's average selling price is much higher than that of competitors
Apple's operating margins obviously benefit from selling iPhones at a premium to competing smartphones. Apple boosted its ASP (average selling price) with the launch of iPhone 6 and iPhone 6 Plus. According to Apple's filings, the iPhone's ASP increased from $637 in 1Q14 to $687 in 1Q15.
Apple benefited from selling the iPhone 6 Plus models at a $100 premium to the iPhone 6 model. Likewise, the company also benefited by selling higher-capacity 64 GB and 128 GB models at a higher price. Read Why new iPhones could help Apple boost its average pricing to understand the pricing behind Apple's iPhone 6 and iPhone 6 Plus models.
According to a report from the Wall Street Journal, citing market research firm ABI Research, the ASP of Google (GOOG) Android-based smartphones declined by $100 in 2014 over 2013 to only $254. The situation was even worse for Microsoft. Its ASP was only $45 in 4Q14. Declining ASP is the main reason why these smartphones are struggling to remain profitable.
Apple makes up about 18% of the Technology Select Sector SPDR Fund (XLK). The company is XLK's top holding.