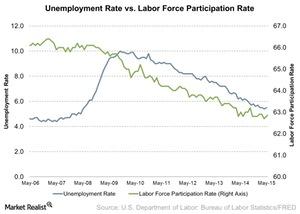 How Unemployment and Labor Participation Rates Affect Restaurants
By Adam Jones

Updated
US unemployment rate moves up
The unemployment rate tells you the current state of the labor market. A low unemployment rate usually signals a healthy labor market and a healthy economy. There's always going to be some unemployment, but it's hard to determine the appropriate unemployment rates. According to a recent summary of economic projections, FOMC (Federal Open Market Committee) participants expect the long-term (beyond 2017) unemployment rate to be in the range of 5% to 5.2%.
Article continues below advertisement
Unemployment and labor participation rate
The unemployment rate in May 2015 increased to 5.5%, up from 5.4% in April, 2015. Although the unemployment rate increased by 10 basis points (one basis point = one hundredth of a percentage point), it's not too far from the FOMC's long-term target.
The unemployment rate doesn't account for people who have left the labor force. So we use the labor force participation rate to get a complete picture of the labor market. The labor force participation rate includes civilians over 16 years of age who are either actively looking for job or are employed. The labor force participation rate rose to 62.9% in May, up from 62.8% in April. The rate had been declining since 2009.
According to a report titled "The Slow Recovery of the Labor Market," published by the Congressional Budget Office, the participation rate has fallen because the Baby Boomer generation is retiring. As well, there's less participation from men and women over the age of 16 and under the age of 25.
Takeaways for the restaurant industry
One in every ten working Americans is a part of the restaurant industry. In 2014, the restaurant-and-accommodation industry had a turnover rate of 66.3%, according to the National Restaurant Association. A tight labor market with low unemployment and participation rates puts pressure on restaurant companies to raise wages to retain their employees.
This wage pressure affects restaurants such as Yum! Brands (YUM), Wendy's (WEN), and Popeyes (PLKI). The Consumer Discretionary Select Sector SPDR Fund (XLY) invests about 4% of its holdings in McDonald's (MCD) and 1.5% in YUM.