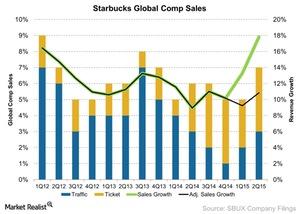 Starbucks Relies on Comps to Drive Revenue Growth
By Adam Jones

Updated
Comparable same-store sales
In the most recent quarter, 2Q15, Starbucks (SBUX) saw its global comparable same-store sales, or comps, grow by 7%. This was is combination of 3% traffic growth and 4% ticket growth. Same-store sales growth is key to Starbucks. Comps directly impact its sales growth, and, down the road, its share price.
In the chart above, we have plotted the company's revenue growth across its global comps, which are broken down by traffic and ticket. Adjusted revenue growth excludes sales from its acquisition of 1,000 units from its joint venture in Japan.
The company maintained 5% comps growth over the last 14 quarters. In recent quarters, the ticket has contributed more toward this growth than traffic has. But you can see that traffic began to increase in 4Q14, which is a big positive for Starbucks, particularly if it continues in this vein.
Article continues below advertisement
The chart above shows the comps breakdown by Starbucks segment. The Americas and the CAP (China, Asia-Pacific) segments have been the biggest contributors toward Starbucks global comps growth. The Americas segment same-store sales grew by 7%, and the CAP segment same-store sales grew by 12% during the most recent quarter.
In terms of revenue, the Americas segment contributes about 68% of Starbucks revenue, and the CAP segment contributes about 13% of revenue.
Management initiatives to sustain growth
Starbucks management is focusing on the Americas and the CAP segments. In the CAP segment, comps and unit growth are the strategic focus. Starbucks is expected to grow units at the rate of 15% annually in the CAP segment over the next five years. If Starbucks plays its card right, it could benefit greatly from achieving this target.
Yum! Brands (YUM), for example, currently gets the majority of its revenue from the Chinese market, and McDonald's (MCD) isn't far behind.
By investing in the Consumer Discretionary Select Sector SPDR Fund (XLY), you can get exposure to SBUX, YUM, and MCD. XLY's portfolio includes 10% in restaurant stocks, 1% of which is invested in Chipotle Mexican Grill (CMG).
The Americas segment has the company's largest store footprint with 14,399, or 65%, of the restaurants in the system. This market has fewer unit penetration opportunities than the CAP and the Europe, Middle East, and African markets. As a result, growing comps makes more sense in this region, and has more impact on revenues, because it doesn't require huge capital investments. So, how will Starbucks grow its comps? Read on.