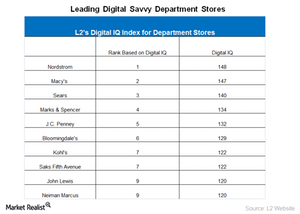 Nordstrom: Most Digital-Savvy Department Store
New initiatives
In May 2015, Nordstrom (JWN) launched TextStyle, its shopping-via-text-message service, at all its US Nordstrom stores. TextStyle allows customers to purchase merchandise recommended by their salesperson or personal stylist through text messaging. TextStyle leverages Nordstrom's Next opt-in, secure one-on-one service, which was launched in 2014. Nordstrom's Next service enables customers to communicate with sales staff using their smartphones.
Article continues below advertisement
Most digital-savvy
Nordstrom, with a digital IQ of 148, is ranked the most digital-savvy department store by L2, a benchmarking and education firm. Macy's (M) and Bloomingdale's rank second and sixth, respectively, in the Digital IQ Index. Sears Holdings (SHLD), J.C. Penney (JCP), and Kohl's Corporation (KSS) rank third, fifth, and seventh, respectively.
Some other key initiatives
In addition to the TextStyle service, Nordstrom has introduced several other services to enhance the consumer shopping experience. In August 2014, Nordstrom partnered with Curalate to launch the Like2Buy platform. Like2Buy allows customers to buy merchandise displayed on the Nordstrom Instagram page.
In September 2014, Nordstrom partnered with Twilio, a software and cloud-based communications company, to introduce a platform through which merchandise images can be sent to customers via text messages.
In August 2014, Nordstrom acquired Trunk Club, a personalized clothing service for men. Trunk Club's online service involves about 250 stylists who assist consumers by giving style tips. Based on the selection, a trunk full of premium clothes is shipped to the consumer for trial and selection. The shoppers keep what they like and send back the rest. On June 1, 2015, rival Macy's partnered with zTailors to provide customized alterations on online purchases.
Nordstrom plans to invest $1.5 billion in technology and fulfillment centers from 2015 to 2019. Nordstrom makes up ~1.0% of the portfolio holdings of the SPDR S&P Retail ETF (XRT).