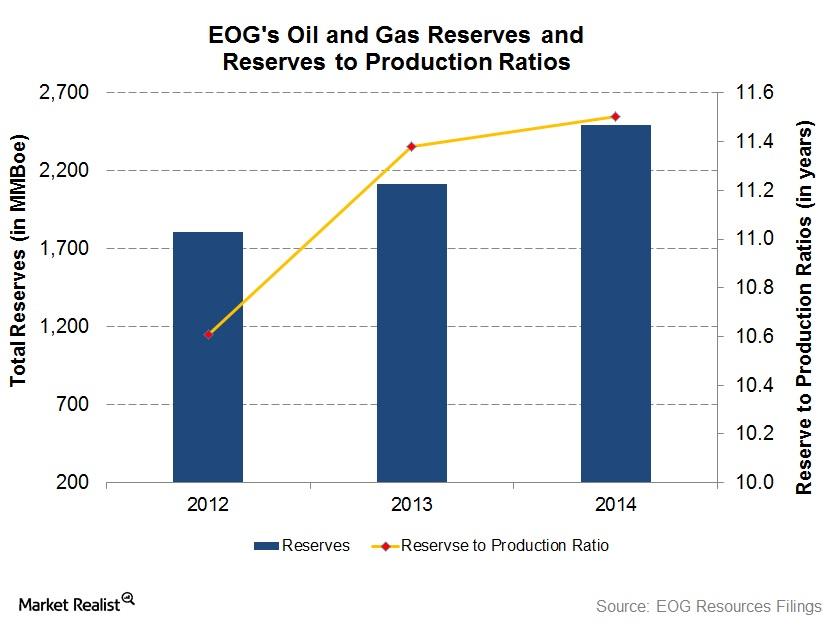 Growth in EOG Reserves Outpaces Production
Growth in reserves
EOG Resources (EOG) has witnessed a strong growth in reserves over the past three years. According to the latest data available, EOG's proved reserves increased 18% to 2,497 million barrels of oil equivalent (or MMBoe) in 2014, from 2,118.5 MMBoe in 2013. In 2013, reserves grew 17% over the previous year.
In comparison, Suncor Energy's (SU) reserves decreased 2.5% in 2014 over the previous year. Concho Resources' (CXO) reserves increased 27% during the same period. Also in that period, Pioneer Natural Resources' (PXD) reserves decreased 5%.
EOG Resources makes up 3.9% of the Energy Select Sector SPDR ETF (XLE) and 3% of the iShares U.S. Energy ETF (IYE).
Approximately 46% of EOG Resources' 2014 reserves was crude oil and condensates, 19% was natural gas liquids (or NGLs), and 35% was natural gas.
Article continues below advertisement
Reserves-to-production ratio
In 2014, EOG Resources' (EOG) total crude oil and natural gas production increased 17% over 2013. This was higher than the 9% growth it achieved in 2013 over 2012.
This was slower than the reserves growth we discussed earlier. So the reserves-to-production ratio, or reserve life, increased from ~10.6x in 2012 to ~11.5x in 2014. This means it would take EOG Resources about 11.5 years to deplete all its proved reserves at its 2014 production rate, all other things remaining constant. Read Part 2 of this series to know more about EOG Resources' production trend.
What made EOG Resources' reserves grow?
EOG Resources has been growing reserves primarily through the organic route. This includes the extension of existing fields and new field discoveries, including the following in 2014:
the liquids-rich Leonard, Wolfcamp, and Second Bone Spring Sand plays in the Permian Basin
the Eagle Ford shale in South Texas
the Williston Basin Bakken core
What are proved reserves?
The EIA (U.S. Energy Information Administration) describes proved reserves as the "estimated volumes of hydrocarbon resources that analysis of geologic and engineering data demonstrates with reasonable certainty are recoverable under existing economic and operating conditions."