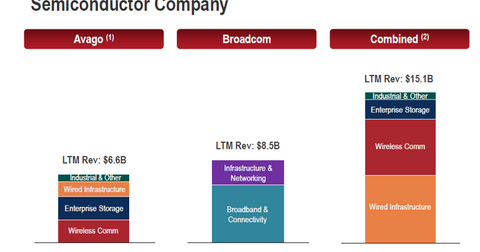 Beware the Political Considerations of the Broadcom-Avago Merger
By Brent Nyitray, CFA, MBA

Jun. 10 2015, Updated 10:05 a.m. ET
Broadcom and Avago are entering a politically perilous time
The Broadcom-Avago merger is being driven at least in part by Avago Technologies' (AVGO) favorable tax rate in Singapore. These sort of transactions are highly unpopular right now, especially in Democratic Party circles.
As the 2016 US presidential election begins to crank up, politicians, especially on the left, are taking aim at these transactions. President Obama has come out forcefully against inversion deals by calling the companies "corporate deserters" and implying that he considers them unpatriotic. Avago has American roots, and politicians will be predisposed to look unfavorably on the Broadcom (BRCM) transaction.
Article continues below advertisement
A major populist left is rising up in the Democratic Party
As we head into the 2016 elections, the progressive left base of the Democratic Party is feeling energized. It's trying to pull presumptive Democratic presidential nominee Hillary Clinton to the left. Bernie Sanders of Vermont and Governor Martin O'Malley of Maryland are to Clinton's left. And Clinton, who claims numerous major Wall Street firms as big contributors, wants to shed the in-the-pocket-of-Wall-Street image her competitors are trying to hang on her.
President Obama, as a lame duck, has taken to pursuing more and more left-wing executive orders, particularly on immigration. He'll be tempted to spike this transaction. Not only that, he needs Democratic support to push through the Trans Pacific Partnership trade agreement, and it can't hurt to make a symbolic gesture that will keep his left flank happy.
The deal requires approvals from the Department of Justice and CFIUS
The deal can fall apart on antitrust, or it can fall apart on the national interest issues of the CFIUS (Committee on Foreign Investment in the United States). Given that Broadcom and Avago really have no overlap, at least as far as we can tell at this point, then the most realistic way to block the merger is through the CFIUS review. The government has been taken to court over antitrust rulings and has been overruled. There isn't that sort of precedent for CFIUS reviews.