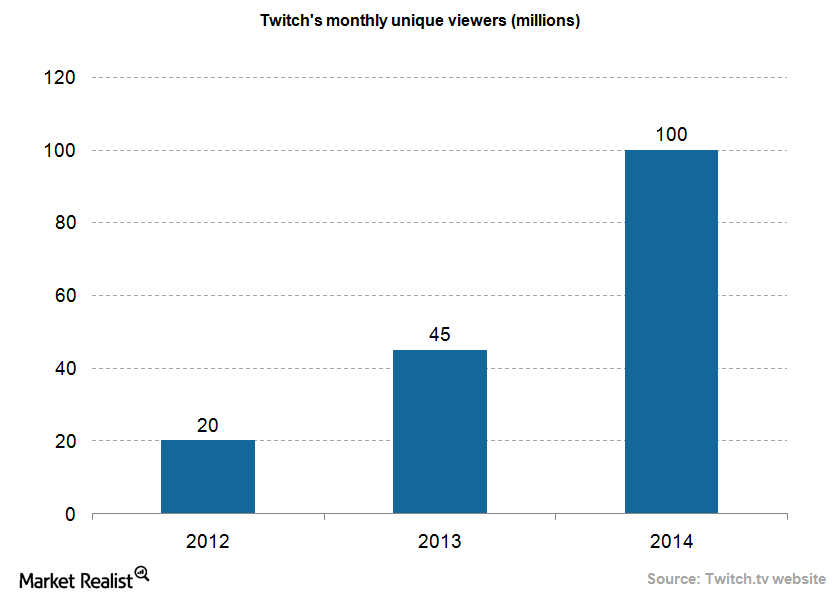 Twitch More than Doubled Its Monthly Active Users in 2013 and 2014
Twitch has more than doubled its monthly active users yearly
Let's go back to August 2014, when Amazon (AMZN) announced its acquisition of Twitch. Google (GOOGL) had also tried to acquire Twitch at the time, but it failed. We discussed this attempt in Why acquiring Twitch would have made sense for Google. This failure led Google to enhance its own YouTube platform for gamers, as we discussed in the previous part of this series.
Twitch has made rapid strides in terms of user growth. According to the Twitch.tv website and as the chart below shows, the number of monthly unique visitors on Twitch's platform has increased from 20 million in 2012 to 45 million in 2013 to 100 million in 2014. That's more than doubling its unique visitors every year. Twitch's popularity increased in 2014 as gamers bought Microsoft's (MSFT) Xbox One and Sony's (SNE) PlayStation 4 gaming consoles with a built-in Twitch app.
Article continues below advertisement
Google is looking to enhance YouTube's ad rates
Google, on the other hand, is now looking forward to enhancing its gaming platform to attract more users. Video games tend to carry higher engagement levels, which leads to higher ad rates. Google has faced criticism in the past for not properly monetizing YouTube. Google has itself acknowledged that its overall ad rates or "cost per click" metric is falling, with YouTube mainly responsible for that decline.
In The Reason Why Google Ad Rates Were Down 7% in 1Q15, we discussed how YouTube's TrueView ads are monetized at a lower rate than Google's search ads, which is why Google's overall ad rates are declining.
Developing its own gaming platform should not only help Google grow its user base, similar to Twitch, but also help it improve its ad rates. To gain diversified exposure to Google, you can invest in the PowerShares QQQ Trust, Series 1 (QQQ). QQQ invests about 3.7% of its holdings in Google.