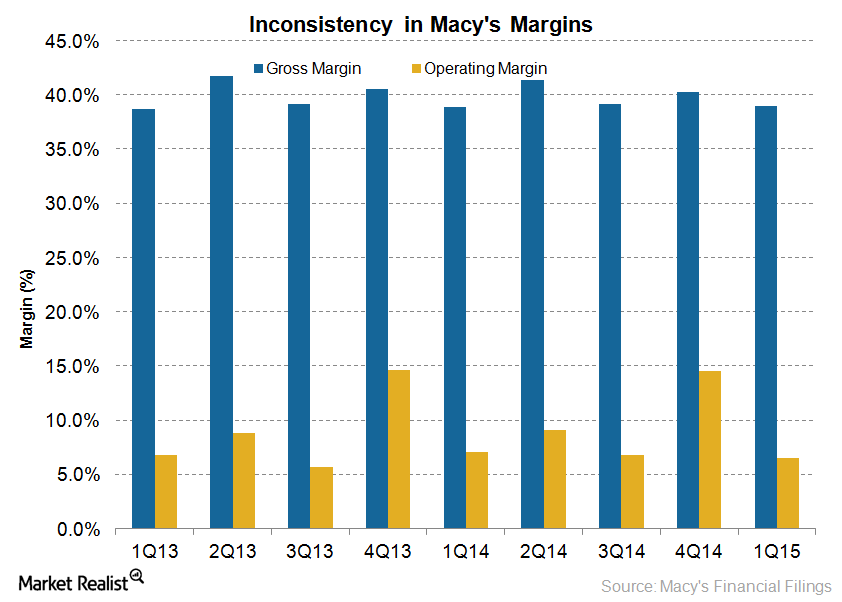 What Went Wrong with Macy's 1Q15 Operating Margins?
1Q15 operating margins decline
Macy's (M) operating margins declined to 6.6% in 1Q15—ending May 2, 2015—from 7.1% in the same quarter last year. Despite the company's restructuring efforts, its expenses as a percentage of sales couldn't be brought down to offset the lower sales volumes in the quarter.
Operating income declined by 7.7% to $409 million—from the same quarter last year—due to higher expenses. We discussed this in Part 2 of this series.
Article continues below advertisement
Article continues below advertisement
Gross margins improve slightly
Unlike it's 1Q15 operating margins, Macy's gross margins improved slightly to 39% from 38.9% in the same quarter last year. The gross margins benefited from the merchandise margin improving by 20 bps (basis points).
Going ahead, Macy's expects the impact of shipment delays of spring goods from the West Coast port dispute to have an adverse impact on its second quarter gross margins due to markdowns.
Pressure on margins
Sluggish sales and intense competition from online and off-price retailers adversely impacted the company's margins. The company's operating margins in fiscal 2014—ending January 31, 2015—came in at ~10%. This was higher than Nordstrom's operating margin of 9.8%. However, off-price retailers like TJX Companies (TJX) and Ross Stores (ROST) outperformed Macy's with their operating margins of 12.4% and 13.5%, respectively, due to their leaner business models.
Macy's accounts for ~1% and 0.1% of the Consumer Discretionary Select Sector SPDR Fund (XLY) and the SPDR S&P 500 ETF (SPY), respectively.
Restructuring initiatives
In January 2015, Macy's announced the restructuring of its merchandising and marketing functions at Macy's and Bloomingdale's stores to align them with the company's omni-channel approach. It blends its traditional brick and mortar stores with the online business. The company is also adjusting its field and store operations to improve productivity. These initiatives are expected to generate ~$140 million of savings per year—beginning in 2015. Macy's plans to reinvest these savings into technology and growth initiatives.