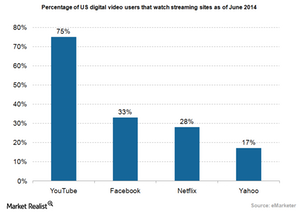 Spotify Plans to Enter Video Streaming Market
Spotify is reportedly in talks with media companies to acquire video content
In the previous part of the series, we discussed how Spotify's net losses have widened as it has recently expanded its reach to a number of countries, including Brazil (EWZ) and Canada. Part of the reason for the large losses has also been the dynamics of the music streaming industry, which is suffering from the high level of music label royalty fees.
Spotify now plans to enter the video streaming market, according to a May 7 report from the Wall Street Journal, citing people familiar with the matter. The report also mentions that Spotify has been in talks with companies that create video content for Google's (GOOG) YouTube service to acquire video content.
Article continues below advertisement
Spotify will face stiff challenges in the video streaming market
Spotify will be entering the highly competitive field of video streaming. YouTube dominates this market. According to a report from eMarketer, citing a June 2014 survey by Frank N. Magid Associates, 75% of US digital video viewers used YouTube to watch videos. Only 33% of the viewers used Facebook (FB), 28% used Netflix (NFLX), and 17% used Yahoo (YHOO), as the above chart shows.
Even Twitter (TWTR) has been making progress in this market. Last year, Twitter launched a video ad product, Amplify, that allows TV broadcasters to share in-tweet video clips with Twitter's audience in real time. More recently Twitter acquired Periscope to develop its mobile video initiative.
In the video subscription market, Amazon (AMZN) is looking to aggressively acquire more video content. Netflix has also been focusing on beefing up its original content.