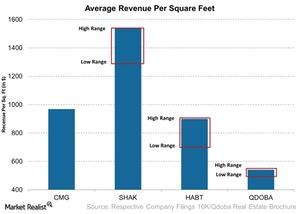 Chipotle's Revenue Per Square Foot: Two Times More than Qdoba's
Average revenue per square feet
In the last part of this series, we compared Chipotle Mexican Grill's (CMG) valuation to its peers. But let's look at it from the perspective of average revenue per square foot, which is how much revenue Chipotle is making per square foot. Chipotle makes up to 1% of the consumer discretionary sector ETF (XLY).
Qdoba's average restaurant size is 2,000 to 2,400 square feet. With an average unit volume of about $1 million, the revenue per square foot is $540 to $450. This is much smaller than Chipotle's and has significant room to grow.
Chipotle's average restaurant size is about 2,550 square feet. With an average restaurant volume of $2.4 million, the revenue per square foot comes to $969. This is almost two times more than Qdoba's (JACK).
In 2014, Chipotle's average unit volume (or AUV) grew 11%. Qdoba's grew 2%. Qdoba is a peer to keep an eye on, but as long as Chipotle keeps increasing its AUV at a faster rate than Qdoba, its prospects will continue to be positive over the long term.
Article continues below advertisement
Increasing AUV with throughput
Throughput is what supports AUV. Chipotle focuses on throughput, which means serving customers quickly through technological investments and training. In the first quarter of 2015, Chipotle increased the number of customers served by 21.
But there is competition from newer restaurants such as Shake Shack (SHAK), which has an average revenue per square foot of $1,137 to $1,537 per square foot. Habit Burger Grill (HABT) has revenue in the range of $642 to $900 per square foot.
Chipotle has room to grow
Chipotle is rolling out a national advertisement to highlight Chipotle's food culture of using healthy ingredients with no preservatives. This will further help Chipotle differentiate from its competitors. Marketing will help increase Chipotle's impact in newer as well as existing areas.
Chipotle management stated there are people who still haven't tried Chipotle. That means the company has room to grow in same-store sales. The company said it will always focus on throughput to support this growth and provide speedy service.